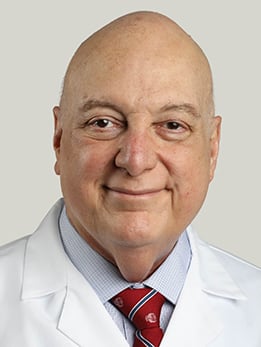 Professor of Medicine
Director, Comprehensive Hypertension Center
UChicago Faculty Physicians hold faculty positions with the University of Chicago and provide care for patients on the academic health system's main campus in Hyde Park and in care centers throughout the Chicago region.
Close
773-702-6138
George Bakris, MD, specializes in the diagnosis and reduction of high blood pressure, particularly in complicated and refractory cases. He is also skilled in the treatment of kidney disease, with special expertise in diabetes-related kidney disease and slowing its progression. As director of the Comprehensive Hypertension Center he oversees the interpretation of Ambulatory Blood Pressure Monitoring (ABPM) for the institution, a technique that provides information about blood pressure over the 24 hour period, including during sleep.

In his research activities, Dr. Bakris explores why the rate of kidney disease is significantly higher in the black population than it is in other ethnic groups. He also evaluates specific markers of kidney disease progression and heightened cardiovascular risk, as well as how changes in the artery (central pressure) affect the heart and kidney.

Dr. Bakris has been extensively involved as either a principal investigator or on the steering committees of national and international trials involving diabetic kidney disease progression and resistant hypertension. He is the principal investigator of the FIDELIO trial evaluating a novel agent on progression of diabetic kidney disease. He is also on the steering committee of two other international trials involving agents that lower blood pressure or blood sugar and assessing effects on diabetic kidney disease progression. He recently completed studies on renal denervation for resistant hypertension and use of a recently FDA-approved agent, patiromer, for controlling serum potassium in high-risk people with advanced kidney disease. And, he has served on many guidelines committees over the past 15 years and is currently the chair of the American Diabetes Association Blood Pressure Consensus Panel and a member of the American Heart Association panel updating resistant hypertension guidelines.
Dr. Bakris received the Irvine Page-Alva Bradley Lifetime Achievement Award to acknowledge his lifetime of outstanding achievements in the field of hypertension.