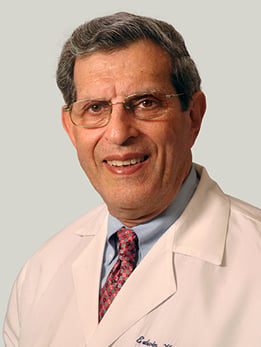 Surgery, Endocrine Surgery, General Surgery | More
Professor of Surgery
UChicago Faculty Physicians hold faculty positions with the University of Chicago and provide care for patients on the academic health system's main campus in Hyde Park and in care centers throughout the Chicago region.
Close
773-702-6155
Edwin L. Kaplan, MD, is a world-respected endocrine surgeon. He is an expert in the surgical management of thyroid, parathyroid, endocrine, pancreatic, and adrenal diseases. Dr. Kaplan no longer sees patients, but he continues to teach and perform research.
He is the editor of two books about the thyroid and the co-author of a book on neuroendocrine tumors of the gastrointestinal tract. In addition, Dr. Kaplan has authored more than 75 book chapters, 160 research articles, and a number of other contributions to the medical literature.
Dr. Kaplan previously served as a governor of the American College of Surgeons. He is a past president of the American Association of Endocrine Surgeons, the Chicago Surgical Society, and the Metropolitan Chicago Chapter of the American College of Surgeons. He has been a visiting professor at medical schools in Europe, Asia and Australia.