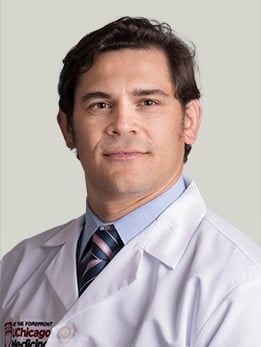 Assistant Professor of Surgery
Co-Director, Living Donor Liver Transplant Program
UChicago Faculty Physicians hold faculty positions with the University of Chicago and provide care for patients on the academic health system's main campus in Hyde Park and in care centers throughout the Chicago region.
Close
773-834-3524
Diego di Sabato, MD, is an expert liver and kidney transplant surgeon who specializes in living donor transplantation, providing his patients with an alternative to waiting for a deceased-donor organ. As a Spanish-speaking transplant surgeon, Dr. di Sabato is dedicated to helping Hispanic and Latinx patients and families who seek the highest quality transplant care. Dr. di Sabato diagnoses, manages and treats a wide range of liver and kidney diseases, including liver cancer, liver tumors, kidney failure and more.
Dr. di Sabato also has experience in treating benign and malignant bile duct diseases and other hepatobiliary malignancies. He partners with our cancer physicians to decide the best treatment plan for each patient.
Along with his dedication to his clinical work, Dr. di Sabato is passionate about continued research to improve care for transplant patients. Currently, he is investigating liver recovery options in order to increase the number of viable organs available for patients needing a liver transplant.