Urogynecology and Pelvic Reconstructive Surgery, OB/GYN | More
Assistant Professor of Obstetrics and Gynecology
A clinically integrated network of physicians and providers employed by UChicago Medicine who offer care in inpatient, community, ambulatory, acute care or extended care settings.
Close
773-702-6118
Request an Appointment
Refer a Patient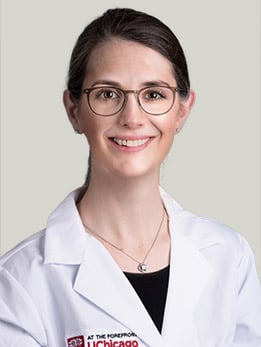 Dianne Glass, MD, PhD, is a gynecologist with advanced training in female pelvic medicine and reconstructive surgery. She treats women with a wide range of vaginal and pelvic conditions including pelvic organ prolapse, vaginal atrophy, urinary incontinence, urinary infections, and painful or irritative voiding disorders. Dr. Glass also is skilled in minimally invasive gynecologic treatments including vaginal, laparoscopic and robot-assisted surgeries.
Dr. Glass has engaged in research on urodynamic tests that assess how the bladder and urethra are performing their job of storing and releasing urine and has made presentations on the role of preoperative urodynamics for women undergoing prolapse surgery. With a background in mechanical and biomedical engineering, she is also interested in mesh complications and the origins of pelvic organ prolapse. She has studied the use of intravesical botox, a procedure that involves an injection of Botulinum Type-A toxin into the muscles of the bladder wall, as a treatment for overactive bladder.
To Request an Appointment
Duchossois Center for Advanced Medicine (DCAM) - Hyde Park
Request an Appointment at Duchossois Center for Advanced Medicine (DCAM) - Hyde Park or call UCM Connect at 1-888-824-0200
UChicago Medicine Women's Health Streeterville
Request an Appointment at UChicago Medicine Women's Health Streeterville or call UCM Connect at 773-702-6118
UChicago Medicine Schererville
Request an Appointment at UChicago Medicine Schererville or call UCM Connect at 1-888-824-0200
To Refer a Patient
Refer a Patient
or call UCM Connect at
1-888-824-0200