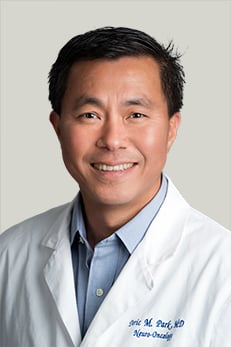 Neuro-Oncology (Brain & Spinal Tumors), Neurology | More
Associate Professor of Neurology
Director, Medical Neuro-Oncology
UChicago Faculty Physicians hold faculty positions with the University of Chicago and provide care for patients on the academic health system's main campus in Hyde Park and in care centers throughout the Chicago region.
Close
855-702-8222
Dr. Deric M. Park is an expert in the diagnosis and treatment of
brain
and spine tumors, and its complications. In addition to both primary brain and metastatic cancers, he also specializes in rare conditions such as chordoma, meningioma, and hereditary cancer syndromes. He works collaboratively with the patient and family members to develop an individualized approach.
Dr. Park's research focuses on the development of more effective therapies that will benefit patients suffering from these conditions. His laboratory research efforts have directly been translated to clinical trials, and resulted in more than 50 peer-reviewed publications in scientific journals. He has held faculty positions at the University of Pittsburgh Cancer Institute, the University of Virginia, and the National Cancer Institute prior to being recruited to the University of Chicago. He is a recipient of the Merit and Career Development Awards from the American Society of Clinical Oncology, and a member of the Scientific Advisory Board for the Chordoma Foundation.