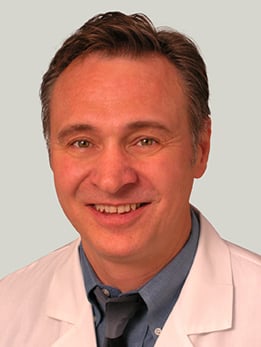 Professor of Medicine
Chief, Section of Infectious Diseases and Global Health
UChicago Faculty Physicians hold faculty positions with the University of Chicago and provide care for patients on the academic health system's main campus in Hyde Park and in care centers throughout the Chicago region.
Close
773-834-1443
David Pitrak, MD, is highly skilled in the treatment of infectious diseases and has special expertise and experience in the management of immunocompromised patients. This includes stem cell and solid organ transplant recipients, patients with HIV infection and patients with other primary or acquired immune deficiencies.
He has overseen significant advancements in clinical activities in the Section of Infectious Diseases, including the establishment of the Immunocompromised Host Consult Service, and the expansion of the general infectious diseases clinic and the Adult HIV Care Program. This includes the WATCH Clinic, which focuses on preventing mother-to-child transmission of HIV/AIDS. Additionally, Dr. Pitrak has worked to enhance clinical care for complex cases in the HIV clinic by securing resources and enabling multidisciplinary teamwork. He also supervised the opening of the Travel Clinic, which offers consultation, immunizations and preventive care for travelers.
Dr. Pitrak's academic interests include the development of new HIV therapies, rebuilding immune response in HIV patients and investigating the relationship between immune defects and risk for infection in transplantation. He also is the Primary Investigator on a CDC award for expanded HIV testing for disproportionately affected populations in health care settings and enhanced linkage into care in Chicago.