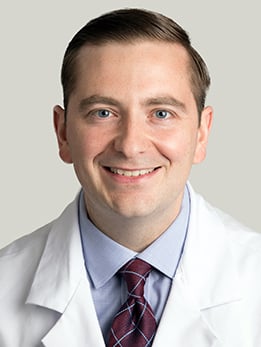 Christopher Roxbury, MD, is a fellowship-trained rhinologist and endoscopic skull base surgeon. Dr. Roxbury specializes in minimally invasive and endoscopic surgical treatment of sinonasal disorders, including chronic rhinosinusitis, nasal polyposis, benign and malignant tumors of the nose, paranasal sinuses and anterior cranial base, and cerebrospinal fluid rhinorrhea.
As a researcher, Dr. Roxbury investigates ways to optimize surgical outcomes and postoperative management for patients following endoscopic sinus and skull base surgery. He has authored numerous peer-reviewed articles related to rhinology and endoscopic skull base surgery, and he frequently speaks at national rhinology and skull base surgery conferences.
UChicago Faculty Physicians who provide services at UChicago Medicine Ingalls Memorial are not employees or agents of UChicago Medicine Ingalls Memorial.
Read More About Otolaryngology