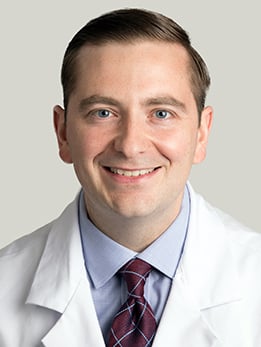 Otolaryngology (ENT), Head and Neck Surgery | More
Assistant Professor of Surgery
Director, Endoscopic Skull Base Surgery
A clinically integrated network of physicians and providers employed by UChicago Medicine who offer care in inpatient, community, ambulatory, acute care or extended care settings.
Close
773-702-1865
Christopher Roxbury, MD, is a fellowship-trained rhinologist and endoscopic skull base surgeon. Dr. Roxbury specializes in minimally invasive and endoscopic surgical treatment of sinonasal disorders, including chronic rhinosinusitis, nasal polyposis, benign and malignant tumors of the nose, paranasal sinuses and anterior cranial base, and cerebrospinal fluid rhinorrhea.
As a researcher, Dr. Roxbury investigates ways to optimize surgical outcomes and postoperative management for patients following endoscopic sinus and skull base surgery. He has authored numerous peer-reviewed articles related to rhinology and endoscopic skull base surgery, and he frequently speaks at national rhinology and skull base surgery conferences.
Read More About Otolaryngology