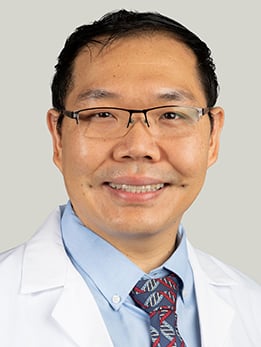 Assistant Professor of Pediatrics
Director, Child Neurology Residency Training Program
A clinically integrated network of physicians and providers employed by UChicago Medicine who offer care in inpatient, community, ambulatory, acute care or extended care settings.
Close
773-702-6169
Pediatric neurologist and epileptologist Chalongchai Phitsanuwong, MD, specializes in the treatment of children with epilepsy, using medication and medical diets. He has unique expertise in ketogenic diets for the treatment of difficult-to-control seizures, particularly when epilepsy surgery is not deemed an option. When surgery is the recommended treatment option, Dr. Phitsanuwong provides pre-surgical evaluation and post-surgical care for children in the Pediatric Epilepsy Center. He also offers comprehensive evaluation for children with other neurological conditions. His interests include drug-resistant epilepsy, dietary therapy for epilepsy, and the genetics of epilepsy, in addition to providing pediatric care for epilepsy and other neurological conditions in underserved communities.
Dr. Phitsanuwong is also a respected educator, serving as a teacher and mentor to child neurology residents and EEG technicians. His research interests include ketogenic diets and epilepsy genetics.