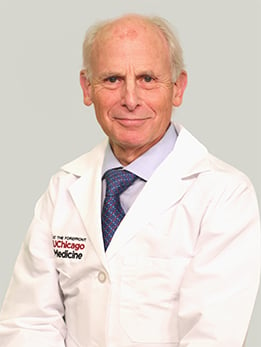 Pediatric Plastic & Reconstructive Surgery | More
Clinical Associate of Surgery
UChicago Faculty Physicians hold faculty positions with the University of Chicago and provide care for patients on the academic health system's main campus in Hyde Park and in care centers throughout the Chicago region.
Close
773-702-6169
Bruce S. Bauer, MD, FACS, FAAP, is a highly regarded surgeon who treats a full spectrum of pediatric plastic surgeries, including cleft lip and palate, craniofacial deformities, congenital and acquired ear deformities and birthmark reconstruction. Dr. Bauer is also an expert in using pediatric tissue expansions (a technique that creates new skin to repair or replace skin elsewhere in the body) to treat large and giant melanocytic nevi and other congenital and acquired deformities.
Dr. Bauer's long-time dedication to the pediatric plastic surgery and his commitment to high-quality care propelled him to develop specialized reconstructive techniques for complex conditions that have led to referrals from patients nationally and internationally. Examples include designing expanded skin flaps that allow the treatment of larger nevi, in fewer surgeries, with improved functional and aesthetic outcomes and advanced the understanding and approach to reconstruction of complex congenital and acquired ear deformities. Further, by teaming with pediatric dermatologists, he was able to widen the application of these techniques to problematic skin lesions and led to the adoption of pediatric tissue expansion around the world.
In addition to Dr. Bauer's devotion to his clinical work, he is an active researcher who has published numerous papers and chapters related to his field as well as co-edited and contributed extensively to two editions of "Principles and Practice of Pediatric Plastic Surgery." Dr. Bauer has also collaborated closely with several colleagues on research efforts to characterize the growth of melanocytic nevi, mutations associated with their formation and understand their relation to nevus cells in the central nervous system.