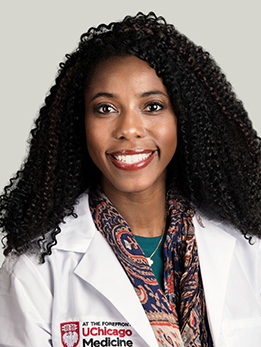 Reproductive Endocrinology and Infertility, OB/GYN | More
Assistant Professor of Obstetrics and Gynecology
UChicago Faculty Physicians hold faculty positions with the University of Chicago and provide care for patients on the academic health system's main campus in Hyde Park and in care centers throughout the Chicago region.
Close
773-702-6118
Amanda Adeleye, MD, specializes in reproductive medicine and infertility treatment, including in vitro fertilization (IVF) and intrauterine insemination (IUI). Dr. Adeleye is passionate about helping women with hormonal and reproductive conditions, providing compassionate, personalized and evidence-based care to each of her patients. She is also an expert in fertility preservation, a process in which eggs or sperm are saved for future use, either to address reproductive aging or in the event that a person may have medical treatments that may harm their future fertility.
Dr. Adeleye is a fellow of the American Congress of Obstetricians and Gynecologists. Additionally, as an academic clinician, she is devoted to using research to close fertility related health care disparities. Dr. Adeleye's research interests include increasing access to care and education for the LGBTQ community. She is also committed to improving the educational resources available to all patients to inform them on their fertility journey.
Answers to Common Questions about Infertility
Infertility is common, and in many cases — treatable. Reproductive endocrinologist Amanda Adeleye, MD, explains signs and symptoms that may mean it's time to talk with a fertility specialist.