Offering a Full Scope of Feminizing and Masculinizing Surgeries
Our plastic and reconstructive surgeons, urologists, gynecologists and laryngeal surgeons can perform a wide range of feminizing and masculinizing operations to enhance your appearance and help you achieve harmony with your gender identity.
Our team is skilled in performing microsurgical procedures that can maximize sensation and function after gender-affirming surgery. Whenever possible, we use less invasive techniques to reduce pain and scarring and improve recovery time. We also routinely provide revision surgeries for patients with complications or concerns from previous surgeries, as well as patients with other health issues that may make them unable to have surgery at other hospitals.
Appointments
To make an appointment, call 1-888-824-0200 and ask for the Trans CARE clinic, or email us at TransgenderCARE@bsd.uchicago.edu.
Masculinizing Procedures
At UChicago Medicine, we offer gender-affirming procedures on the chest and trunk that can create a more masculine-looking physique, including:
Chest masculinization with nipple reduction and repositioning ("top surgery," also known as subcutaneous mastectomy)
Body contouring of the trunk (including liposuction, "tummy tucks" and fat transfers)
Bottom surgery, also known as genitourinary reconstruction surgery, describes a wide range of gender-affirming procedures performed on the genitals. Some of the masculinizing bottom surgeries available from our expert surgical team include:
Phalloplasty, which uses skin and tissue from the thigh, forearm or other areas of the body to create a penis
Metoidioplasty, which creates a penis with existing genital tissue that has been enlarged with testosterone
Penile implants, which improve the ability to have erections (options include semirigid/malleable implants and inflatable implants)
Urethroplasty, which lengthens the tube in which urine travels to the tip of the penis
Urethral stricture and fistula repair after phalloplasty
Scrotoplasty, which creates a scrotum with or without testicular implants
Vaginectomy, which removes the vagina
Colpocleisis, which closes the vagina
Vaginal preservation after phalloplasty or metoidioplasty
Hysterectomy, which removes the uterus
Oophorectomy, which removes the ovaries
Our skilled plastic and reconstructive surgeons also offer many procedures to give your face a more masculine look, including:
Cheek implants (cheek augmentation)
Jaw contouring with or without implants (jaw augmentation, also known as mandibular contouring)
Chin reshaping with or without implants (chin augmentation, also known as genioplasty)
Nose surgery ("nose job," also known as rhinoplasty)
Surgery to create an Adam's apple (tracheal augmentation)
Frequently Asked Questions
Gender-affirming vaginoplasties offered at UChicago Medicine
Ervin Kocjancic, MD, professor of surgery at UChicago Medicine, is one of only a few Chicago-area doctors who perform gender affirmation surgeries on trans adults and is a member of UChicago Medicine's Trans CARE (Clinic for Affirmation and Reproductive Equity).
Read more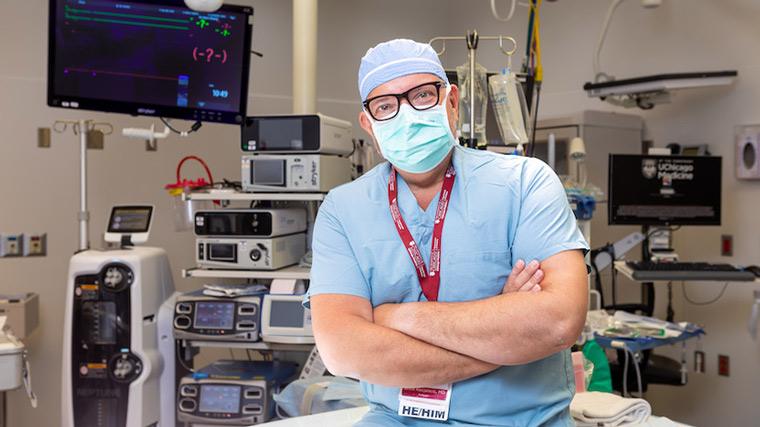 Our Gender Affirmation Surgery Locations