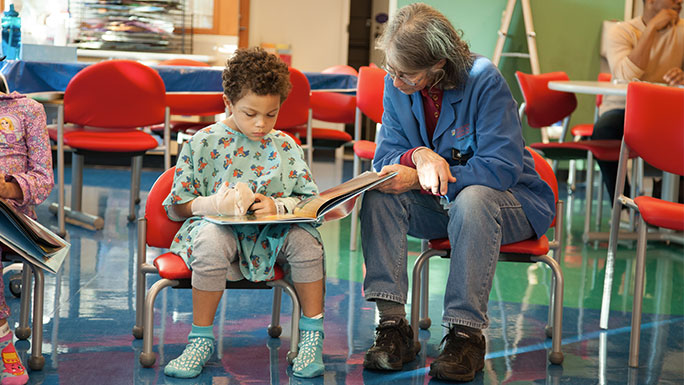 Donate Your Time
At the University of Chicago Medicine Comer Children's Hospital, our volunteers are true stars — exceptional individuals who take the extra steps that make a difference in another person's life. They help in countless ways by making a child giggle. They comfort families who are worried about loved ones. Through deeds large and small, volunteers help patients and their families feel better during difficult times.
Why Volunteer?
Most volunteers say that the personal fulfillment that comes from helping another person is their greatest reward. Other volunteers look forward to the new friendships and camaraderie they share with fellow volunteers. Still others enjoy learning new skills.

In appreciation of the work and time our volunteers contribute, Comer Children's offers benefits to volunteers, including:
Annual Volunteers' Recognition Banquet
Free health screenings
Free parking in the visitors' garage
Free skills training in volunteer work area
How to Join Our Volunteer Team
To become a volunteer, your first step is to submit an application. We will contact you within 30 business days of receiving your application to set up an interview if a volunteer opportunity is available. We are unable to accommodate group volunteering.
Complete a volunteer application and begin your path to volunteering

You must be in good health and at least 16 years old. Volunteers must be willing to receive an annual tuberculosis (TB) test and influenza vaccination and need to commit to four hours of service per week. Volunteer candidates must complete an application and interview, and must pass health-screening tests for tuberculosis, measles, German measles, chickenpox and illegal drugs.
Other Ways to Help
Many of our programs rely on donated items from our community. We are continuously accepting books, magazines and board games that are in good condition. Please contact our main office at 773-702-4421.
Volunteers do not take the place of salaried staff at the Comer Children's Hospital. Volunteer service is not intended in any way to lead to paid employment.