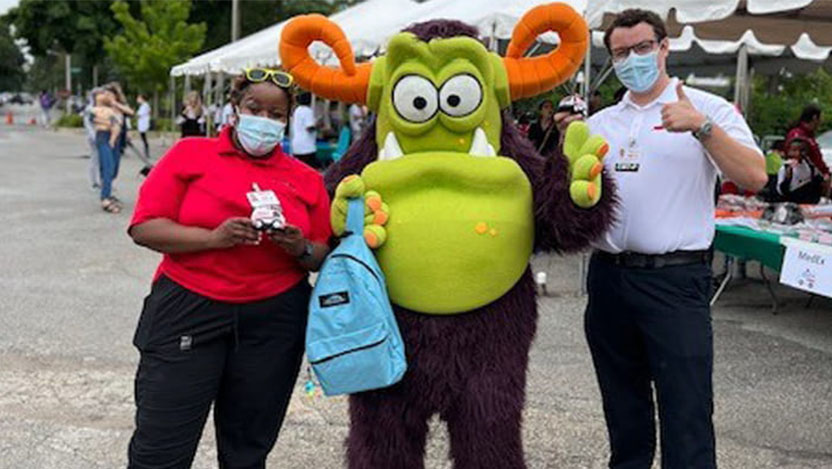 Important updates due to COVID-19:
The University of Chicago Medicine prioritizes the health and safety of our patients, staff, volunteers, and community. With safety in mind, we have resumed volunteer programming in a limited capacity across the medical center. UChicago Medicine volunteers are required to adhere to COVID-19 protocols, including the COVID-19 vaccination and masking in patient-care areas.
The Summer-Only Program application is now closed. The general volunteer application will re-open on August 1, 2023. It can take up to 30-45 business days for your application to be reviewed as we are experiencing a high level of interest. We appreciate your patience and thank you for your interest in volunteering with us!
Donate Your Time
Thank you for your interest in volunteering at the University of Chicago Medicine Comer Children's Hospital. We value our ability to offer health and wellness services to children and families in our South Side communities. In return, our neighbors help us by donating their time.
Our team of volunteers is vital to our mission, which is to provide superior health care in a compassionate manner, ever mindful of each patient's dignity and individuality.
Our volunteers are true stars — exceptional individuals who take the extra steps that make a difference in another person's life. They help in countless ways by making a child giggle. They comfort families who are worried about loved ones. Through deeds large and small, volunteers help patients and their families feel better during difficult times.
Benefits of Volunteering
Personal fulfillment
Free skills training in volunteer work area
Free health screenings, flu shot and parking in the visitors' garage
Making new friends with service-oriented people
Enhanced knowledge of healthcare system, hospital programs and services
Annual volunteer banquet in recognition of your service at UChicago Medicine
Join Our Hyde Park Volunteer Team
Volunteers must be:
At least 16 years old and in good health
Willing to commit to 4 hours of service per week
Able to pass health screening tests for tuberculosis, measles, German measles, chickenpox and illegal drugs
Willing to complete and receive an annual tuberculosis (TB) test and influenza vaccination
To become a volunteer, your first step is to submit an application. If a volunteer opportunity is available, we will contact you within 30 business days of receiving your application to set up an interview. Please note that we are unable to accommodate group volunteering.
Complete a volunteer application and begin your path to volunteering
For more information, contact our team:
Phone
773-702-4421
Fax
773-834-1297
Frequently Asked Questions
Note: Volunteers do not take the place of salaried staff. Volunteer service is not intended in any way to lead to paid employment.