Skip to content
UChicago Medicine Invests $519.5 Million in Community Benefit in Fiscal 2019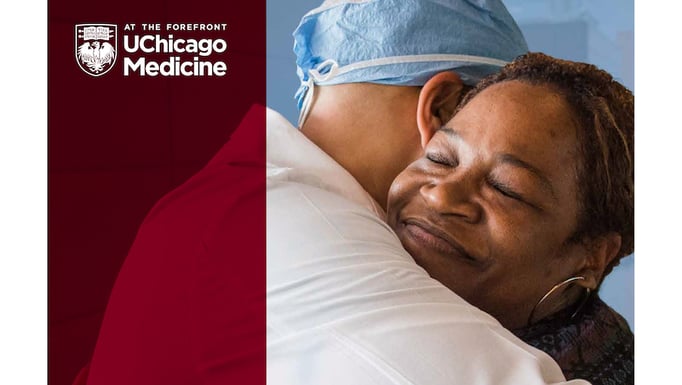 The University of Chicago Medicine provided $519.5 million in benefits and services to the South Side community in fiscal 2019, according to its annual Community Benefit Report.
This contribution represents a 9 percent increase in investment over fiscal 2018 ($477.3 million) and includes uncompensated care, charity services, unrecoverable patient debt, medical education and research and other community support.
Community benefit programs and partnerships are guided by the Urban Health Initiative, UChicago Medicine's division that works with community organizations on health-related programs, research and services to promote health equity for South Side residents. UChicago Medicine's Community Advisory Council, made up of civic and faith leaders, also provides guidance to the medical center on key community health concerns, including racial disparities and social determinants of health.
"As the COVID-19 pandemic has made tragically clear, health disparities in our South Side communities put residents at significantly higher risk for illness – whether chronic disease or viral infection," said Brenda Battle, RN, BSN, MBA, Vice President of the Urban Health Initiative and Chief Diversity, Inclusion and Equity Officer. "While UChicago Medicine has made robust investments toward improving health equity, there is a renewed urgency to quickly adapt to this changed landscape and join with community partners in addressing current and evolving healthcare needs."
The 2019 Community Benefit Report highlights more than 50 community programs, partnerships, and initiatives, many of which focus on the South Side's top health priorities, including: chronic disease (asthma and diabetes), violence prevention and trauma resiliency, and social determinants of health – underlying contributors to health disparities and chronic disease, like education level, poverty, unemployment, violence and community safety, access to care, and food insecurity.
These health priorities were identified through the University of Chicago Medicine's 2019 Community Health Needs Assessment (CHNA). Conducted every three years, the CHNA is used to make decisions on where to commit resources that can most effectively improve community members' health and wellness. The 2019 CHNA also features community profiles of 27 South Side community areas— from Oakland to Riverdale — which provide data about demographics and social determinants of health, as well as health behaviors, outcomes and resources.
"As the South Side's only academic medical center, UChicago Medicine has an obligation to go beyond fulfilling our traditional missions of clinical care, research and education. We must care for residents of one of the most under-resourced communities in the nation — while also advancing the treatment for cancer, heart disease and other life-threatening conditions," said Kenneth S. Polonsky, MD, Dean and Executive Vice President for Medical Affairs. "UChicago Medicine remains committed to making significant investments to expand and support critical and advanced services for our patients and community."

Highlights of the 2019 Community Benefit Report include:
Asthma: The South Side Pediatric Asthma Center, a multi-institutional partnership, has served more than 280 children living with asthma through its Community Health Worker program. This program helps children, families and their caregivers better understand asthma and how to manage it, and has led to a decrease among participants in emergency room visits, hospitalizations and missed school and work days.
Violence prevention and trauma resiliency: UChicago Medicine continues to address the public health crisis of intentional violence through its Violence Recovery Program, which has served more than 1,000 patients and nearly 500 families. In addition, the following initiatives launched in 2019:

The Block Hassenfeld Casdin (BHC) Collaborative for Family Resilience was established in May 2019 with a $9.1 million gift from the Ellen & Ronald Block Family Foundation and the Hassenfeld Family Foundation. The BHC Collaborative is based on the premise that trauma caused by violence is best treated holistically — starting with personalized care of the child and family in the medical center, continuing through discharge and recovery, and extending into the home, school and neighborhood —through a network of community resources. The model represents a dramatic shift in trauma care: Instead of providing only medical care to trauma patients, the BHC Collaborative approach includes wraparound services to help children and their families during and following their hospital experience.
Southland RISE: In 2019, UChicago Medicine partnered with Advocate Health Care to form Southland RISE (Resilience Initiative to Strengthen and Empower). The partnership was inspired by Chicago HEAL — Hospital Engagement, Action and Leadership — an initiative launched by U.S. Senator Dick Durbin to address the effects of violence in the Chicago area. Southland RISE focuses on strengthening and integrating existing violence recovery and trauma care services within the two medical systems and throughout South Side and south suburban communities. Southland RISE awarded $100,000 in grant funding to support the summer violence prevention and recovery programs at 14 community-based organizations on the South Side.

Economic opportunity: The University of Chicago, including UChicago Medicine, is the largest private employer on the South Side. In fiscal 2019, the medical center hired 334 people residing in its 12-ZIP code South Side service area. Also in fiscal 2019, UChicago Medicine spent $11.02 million with certified minority- and women-owned construction and construction-related firms, through contracts awarded and paid. Paid contracts included $949,000 million in wages to minority and female onsite construction workers.
To view the full Community Benefit Report, visit uchicagomedicine.org/community-benefit.
Urban Health Initiative
The Urban Health Initiative (UHI) is UChicago Medicine's community health department through which population health and community benefit are administered.
Learn more about the urban health initiative
Community Outreach and Health Equity Articles