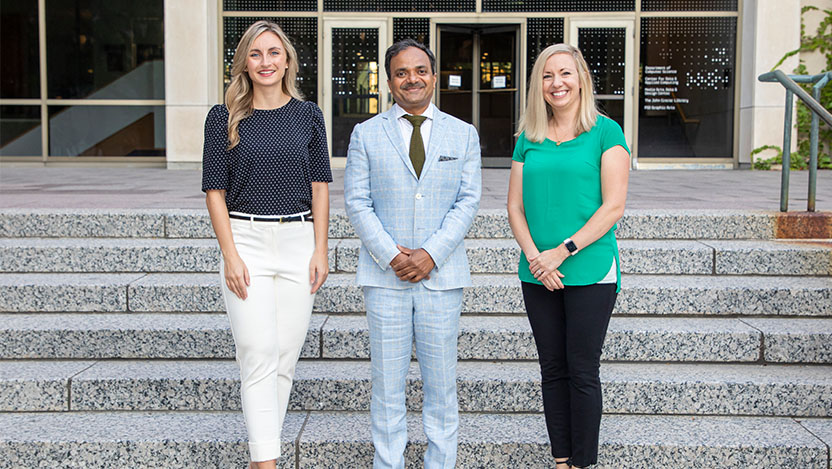 We offer pediatric urology care from prenatal development through age 18. The expert urologists at the University of Chicago Medicine Comer Children's Hospital provide care to children with conditions affecting the kidneys, ureter, bladder, urethra, penis and testicles.
Congenital Abnormalities of the Kidney, Bladder & Genitalia
Some of the most common pediatric urological problems — anomalies in the kidney (ureteropelvic junction, duplex kidney) and bladder (vesicoureteral reflux, neurogenic bladder) — occur during fetal development. Sometimes these conditions require surgical reconstruction. Mohan Gundeti, MD, is an expert in kidney reconstruction (pyeloplasty) and bladder reconstruction (cystoplasty). In most cases, these reconstructions can be done using minimally invasive procedures, including robot-assisted techniques.
Some genital and bladder abnormalities, like hypospadias and cloaca bladder exstrophy, require open reconstruction. Others, like undescended testis, can usually be corrected laparoscopically. In addition, a multidisciplinary team offers surgical care and long-term management for children born with complex anorectal malformations.
At Comer Children's, the pediatric urologist will examine all options before performing surgery for hydronephrosis. In children with mild hydronephrosis or reflux, it is safe to carefully monitor these children. This is called observational therapy. Observational therapy involves closely watching your child's health and kidney growth while your child takes low dose antibiotics to prevent infection. Typically, the problems correct themselves as the child grows. Learn more.
At Comer Children's, children receive comprehensive treatment for VUR from our highly trained pediatric urologist. Some children may only need conservative management. They will require a daily low-dose of antibiotics until they are age 3 to 5 years. This will help prevent urinary tract infections. They'll also need regular imaging tests. If children have started or finished potty training, they will also take part in bladder retraining. Learn more.
If a child is experiencing an interrupted or intermittent flow of urine, he or she may have a voiding dysfunction. Sometimes this is the result of a neurological problem, but is more commonly caused by a child's habit of "holding in" the urine. The voiding dysfunction clinic at Comer Children's, under the direction of a pediatric urologist and a dedicated nurse specialist, offers comprehensive evaluation of voiding dysfunction using state-of-the-art equipment and treatments, such as urodynamics and biofeedback. In rare cases when surgery is required, minimally invasive techniques including robotic surgery are used. Learn more.
Multi-Specialty Clinics
The clinic for fetal urological diseases focuses on diagnosis and intervention for various urological anomalies (i.e. hydronephrosis, posterior urethral valve) discovered before a baby is born. The clinic offers diagnosis, treatment and counseling for women with high-risk pregnancies related to bladder and genital abnormalities.
The clinic for neurogenic bladder disorders concentrates on neurogenic bladder, a condition sometimes seen in children with spina bifida. The urologist works with a team of neurosurgeons and orthopaedic surgeons to evaluate and manage this complex condition. If reconstruction of the bladder is necessary, the procedure is usually performed with the da Vinci robotic surgical system.
Our Pediatric Urology Locations in Chicago and South Suburbs
1101 S. Canal St.
Suite 201 & 202
Chicago, IL 60607
877-336-5667
Request an Appointment
The information you provide will enable us to assist you as efficiently as possible. A representative will contact you within one to two business days to help you schedule an appointment.
You can also make an appointment with our providers by:
– Scheduling a virtual video visit to see a provider from the comfort of your home
– Requesting an online second opinion from our specialists
To speak to someone directly, please call 1-773-702-6169. If you have symptoms of an urgent nature, please call your doctor or go to the emergency room immediately.
Pediatric Articles & News