In addition to providing the highest level of care for patients with inflammatory bowel disease (IBD), our physicians are actively involved in basic, clinical and translational research. Some of our current research projects include a focus on:
The goal is to help identify the cause(s) of inflammatory bowel disease to develop more effective treatments and, ultimately, to find a cure. Through our collaborative studies, we work to discover new mechanisms that cause IBD, as well as evaluate drugs that will lead to expansion of the therapeutic options for children, adolescents and young adults. Many of our patients participate in our research studies, which include clinical trials of new treatments for Crohn's disease and ulcerative colitis.
Dr. Kirsner's Legacy
A member of the University of Chicago faculty for more than 75 years, the late Joseph Kirsner, MD, PhD, transformed the field of gastroenterology and was instrumental in advancing knowledge of inflammatory bowel disease. Dr. Kirsner started studying Crohn's disease and ulcerative colitis in the late 1930s. Throughout his career, he researched possible causes and effects of IBD. In addition to demonstrating the role of genetics in IBD, recognizing the increased risk of colon cancer in patients with IBD and emphasizing the role of nutrition in disease management, he established a new standard of patient care and pioneered new treatment options.
Innovations in Research & Patient Care
UChicago Medicine continues to be at the forefront of research and innovation in inflammatory bowel disease. In 2001, a team of researchers from UChicago and the University of Michigan identified the first genetic abnormality that increases the risk of Crohn's disease. This gene — Nod2 — is involved in the immune system's initial response to bacterial infection. As a result of the discovery, physician-scientists continue to gain more insight into the relationship between genetics, bacteria and immunity in IBD.
UChicago researchers also have contributed to the development of new clinical protocols for inflammatory bowel disease. Working as part of a large-scale trial, our researchers helped to determine that infliximab (a biologic therapy) can prolong remission in pediatric patients with moderate to severe ulcerative colitis. In addition, the UChicago team found that early introduction of biologic therapy can improve Crohn's disease outcomes.
Our research team remains committed to studying the underlying mechanisms of IBD in order to help identify more effective treatments.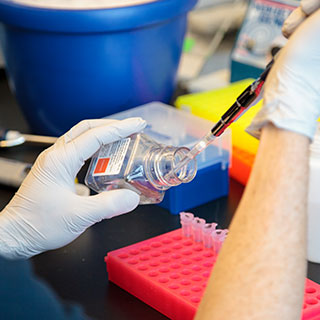 Active Clinical Trials
We are dedicated to delivering new treatments through our research and clinical trials. Offering patients advanced therapies before they are widely available puts them at the forefront of gastroenterology care.
Find a pediatric clinical trial
Request an Appointment
The information you provide will enable us to assist you as efficiently as possible. A representative will contact you within one to two business days to help you schedule an appointment.
You can also make an appointment with our providers by:
– Scheduling a virtual video visit to see a provider from the comfort of your home
– Requesting an online second opinion from our specialists
To speak to someone directly, please call 1-888-824-0200. If you have symptoms of an urgent nature, please call your doctor or go to the emergency room immediately.