Every child deserves to live in a safe, secure environment, to be nourished and nurtured and to receive appropriate medical care. That's why the Child Advocacy and Protective Services (CAPS) team at the University of Chicago Medicine Comer Children's Hospital is dedicated to enhancing the lives of children and preventing child abuse and neglect. We believe that improving the health and happiness of children promotes adulthood wellness.

Our world-renowned program brings together experts from many disciplines — including medicine and social work — to identify, evaluate, advocate and treat children and families with suspected child abuse and neglect. CAPS provides consultation for Comer Children's and the community at large. Each year, more than 600 children receive services from CAPS.
Establishing a Model of Care
The CAPS team at Comer Children's has developed a model of care that includes interdisciplinary real-time evaluation. Each investigation is led by a pediatrician who specializes in child protection, understands best practices and collaborates with essential subspecialists. This guarantees precision and efficiency in the process of evaluating a child for suspected child abuse.

In 2000, Jill Glick, MD, and her team played a leading role in developing the Multidisciplinary Pediatric Education and Evaluation Center of Excellence (MPEEC). This nationally recognized program ensures that any child in Chicago who is reported to the Department of Child and Family Services (DCFS) for serious harm receives input from a child abuse expert. Such input helps child welfare agencies make the best possible decisions about suspected abuse cases. MPEEC is one of the only programs in the country that mandates needed medical expertise in child abuse evaluations.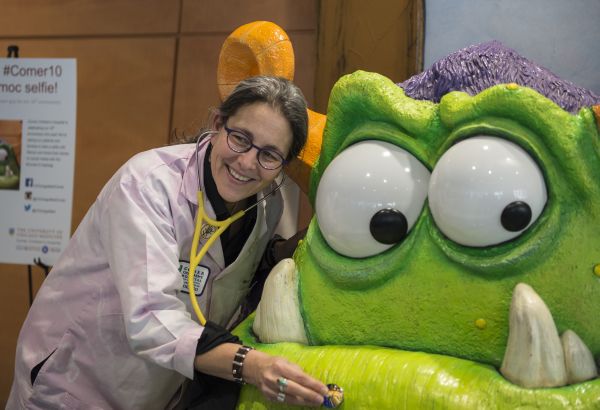 Outreach & Education
Outreach is another important component of the CAPS program. Our staff serves as a resource for the community on child welfare concerns, and we are available to help families and pediatricians with issues of abuse and neglect. In addition, our staff provides training and education for health professionals, police officers, local child welfare agencies and other community members.

CAPS is dedicated to ensuring our future doctors are trained to meet contemporary needs. As part of this commitment to excellence in education, pediatric residents are required to complete a one-month rotation in Child Protection Services.

The CAPS team also has made significant civic contributions through participation and appointments in many regional and state-wide committees. Dr. Glick serves on the Children and Family Advisory Council of the Illinois Department of Children and Family Services. We also are members of the Child Death Review Teams, Juvenile Justice Task Force and the executive section of the American Academy of Pediatrics.
Meet Our Child Advocacy & Protective Services Physician Team
Academic Pediatrics at Comer Children's
Academic Pediatrics is a community of child health professionals engaged in research, advocacy, improvement science and educational scholarship to enhance the health and well-being of all children.
Read More About Child Advocacy and Protective Services