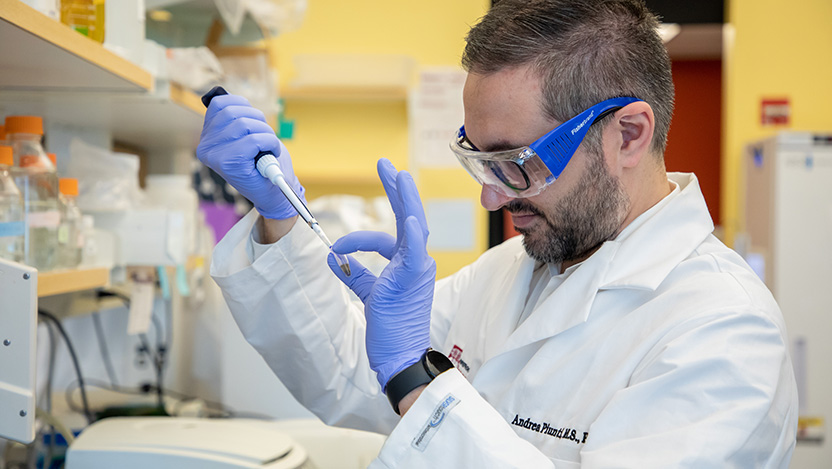 Many of our doctors are also researchers involved in groundbreaking scientific discoveries. As a result, we are able to offer the most advanced approaches for treating neurological problems in infants, children and teens — some of which are not widely available elsewhere. This commitment helps us individualize the care for each child we treat.
Neurology
Experts in our group conduct leading-edge research into the causes and management of the many neurological diseases seen in children. The following is just a sample of the research currently under way.
Seizures
Our physicians are working to identify the precise source of seizures, which would allow us to prescribe the best possible treatment for children who suffer from epilepsy. This research also may reduce the need for invasive brain recording in children with epilepsy.
Neurofibromatosis
Our researchers are studying the psychosocial aspects of neurofibromatosis, as well as the bony abnormalities associated with the disease. We are also trying to uncover the genetic causes of neurofibromatosis.
Early Brain Development
Our scientists hope to gain insight into how early brain development affects learning.
Brain Malformations
We have the largest and longest running research program studying the genetic basis of brain malformations. Our genetics group serves as a national and international resource for other physicians as well as for families of children with brain malformations.
Neurosurgery
Our pediatric neurosurgeons are national leaders in many areas of neuroscience research, including hydrocephalus, brain tumors, brain trauma, and congenital anomalies of the nervous system. Through these ongoing efforts to advance the field of neuroscience, our pediatric neurosurgeons bring the latest technical advances and diagnostic approaches to each child in their care.
Hydrocephalus
A significant grant from the National Institutes of Health supports a research program on the effects of our current treatment strategies for hydrocephalus on cognitive function in children. This study, when completed, will define the very best available strategies for treating hydrocephalus based on a child's cognitive performance.
Chiari Malformations
We also have research programs for the study of pediatric brain tumor treatment by molecular methods, and diagnostic and therapeutic options for children with Chiari malformation. Laboratory investigations into the application of molecular membrane repair as a novel approach to brain trauma are also ongoing.
Request an Appointment
The information you provide will enable us to assist you as efficiently as possible. A representative will contact you within one to two business days to help you schedule an appointment.
To speak to someone directly, please call 1-773-702-2123. If you have symptoms of an urgent nature, please call your doctor or go to the emergency room immediately.