Gift of the Ellen & Ronald Block Family Foundation and the Hassenfeld Family Foundation
[MUSIC PLAYING] Trauma on the South Side of Chicago is a big problem, and children are often the most vulnerable victims.

At Comer Children's Hospital, 12% to 20% of the trauma patients come in because of penetrating trauma. That's compared to a rate of about 5% nationally in a pediatric hospital for that form of trauma.

The Block family was inspired in part by a poem written by a young woman about the sadness in her childhood. Ellie Block met the young woman and was deeply moved.

This beautiful young girl had such a hard passage. There was no chance to have joy in her life, and that seemed so wrong that somebody so young never got to know the joys in life.

One of the things about trauma care is we often think about the physical trauma, but we often don't think about the social and psychological trauma and the impact that has on the course of a child's life cycle.
The Block Hassenfeld Casdin (BHC) Collaborative for Family Resilience integrates and expands clinical and community services to help young patients and their families recover from the immediate and long-lasting effects of trauma caused by community violence and domestic or sexual violence.
The BHC Collaborative is based on the premise that trauma caused by violence is best treated holistically — starting with personalized care of the child and family in the medical center, and continuing through discharge and recovery, even extending into the home, school and neighborhood — through a network of community resources.
The Collaborative builds on UChicago Medicine's Violence Recovery Program, the most comprehensive hospital-based violence recovery program in Chicago, to focus on the special needs of children and families affected by trauma.
Key components of the BHC Collaborative involve:
Managing access to services through violence recovery specialists who meet the critically acute and ongoing needs of children and their families, connecting them with a continuum of resources—in the medical center, in the community, in the home—to support recovery and long-term resiliency.
Helping children navigate their hospital experience by providing 24/7 Child Life interventions in the UChicago Medicine Comer Children's emergency room and support for children whose loved ones are treated at the Level 1 adult trauma center.
Providing wraparound resources to support the holistic needs of children and families experiencing trauma and linking them to specialized, trauma-informed counseling services, including Healing Hurt People-Chicago, a nationally recognized trauma intervention program that provides such services as group therapy and mentoring; the REACT program, which offers assessment, trauma-focused psychotherapy and medication management services for children; and other community-based social support.
Investing in community-based organizations that provide critical resources aimed at helping children, families, and the community build long-term resiliency from trauma and violence.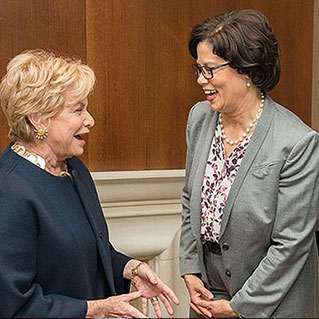 Trauma and Violence Recovery Articles