Cochlear Implants in Children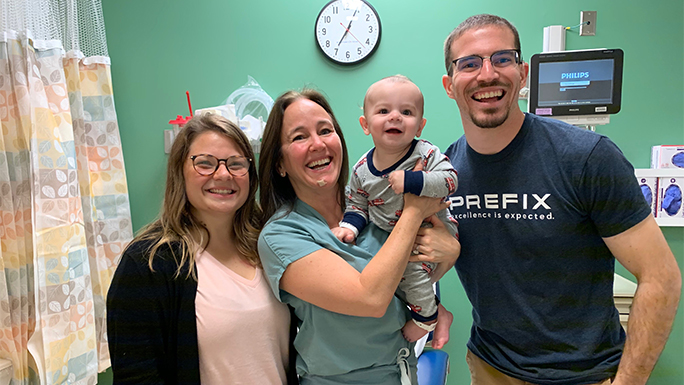 The pediatric cochlear implant program at the University of Chicago Medicine Comer Children's Hospital has the tools to deliver comprehensive care for children who are need cochlear implants. A safe and proven surgical treatment, cochlear implants teach your child to hear by transmitting sound beyond the damaged portion of the ear.
Our dedicated cochlear implant team is made up of surgeons, audiologists, speech-language pathologists, auditory-verbal therapists, child life specialists, a social worker, a geneticist, a developmental pediatrician, a psychologist and an education consultant, and together, we make sure each step of the process is executed successfully.
Our primary goal is to represent the best interest of your child. We are experts in determining if a cochlear implant is the best choice or if another alternative would serve your child better. To decide the best treatment plan for your child, we thoroughly evaluate his or her's health and hearing.
What is a cochlear implant?
A cochlear implant is a safe, FDA-approved surgical device that transmits sound past the damaged part of the cochlea, enabling children with hearing loss to hear in a new way. The internal transmitter portion — the implant — is positioned within the cochlea. The external portion — the processor — is worn on the child's outer ear. The processor picks up sounds with microphones and sends them to the implant using a magnet, which then stimulates the hearing nerve directly.
Who is a candidate for cochlear implants?
Cochlear implants are not for everyone. To know whether a cochlear implant may be right for your child, we first need to know the extent of his or her hearing loss. Children with mild to moderate hearing loss are not candidates for cochlear implants. Hearing aids and other forms of amplification can usually help those patients. Cochlear implants are used to help children who have severe sensorineural hearing loss who get little or no benefit from hearing aids.
The earlier your child receives an implant, the greater the potential is that he/she will develop listening/speaking skills at the same level as their peers who have no hearing loss. Our multidisciplinary cochlear implant team has the ability and resources to help your child make as much progress as possible with listening/speaking skills.
Finally, for your child to be successful with their cochlear implant, your family must make this strong commitment together. We know that you are the most important part of the process for any child.
If you are considering this treatment for your child, there are many families with children have had cochlear implants at Comer Children's that would be happy to share their experiences with you during your decision-making process.
Frequently Asked Questions: Cochlear Implant Surgery
Get a Second Opinion Online
Meet Our Pediatric Cochlear Implant Experts
Find a Hearing Loss Location Near You
Request an Appointment
Please complete this secure form. The information you provide will enable us to assist you as efficiently as possible. A representative will contact you within one to two business days to help you schedule an appointment.
Please note that electronic request form is not for same- or next-day appointments. If you prefer to speak to someone directly, please call 1-773-702-1865. If you have symptoms of an urgent nature, please call you doctor or go to the emergency room immediately.
Pediatric Articles & News