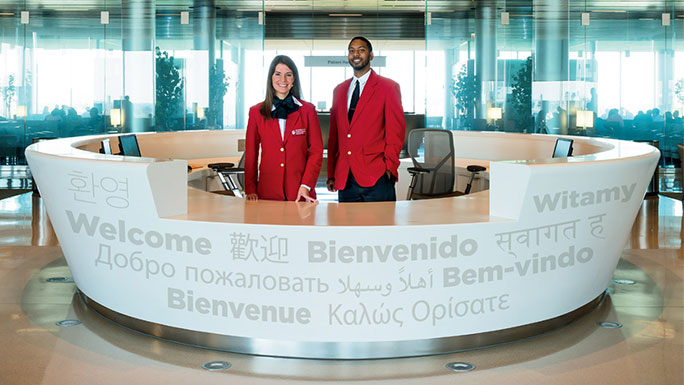 Offering Customized Care for International Patients
UChicago Medicine serves hundreds of patients from more than 75 countries. While our medical team provides world-class clinical care, the Office of International Programs offers an exceptional experience with customized services to meet our international patients' cultural, religious and linguistic needs.
Our bilingual and culturally diverse team is dedicated to meeting our international patients' medical and non-medical needs. We serve as a single point of contact before, during and after a patient's experience at UChicago Medicine. Our priority is to help patients through their health care journey and make Chicago feel as close to home as possible.
International Patient Services: Overview
Hola. Ni-hao.
[SPEAKING FRENCH]
[NON-ENGLISH SPEECH]
[NON-ENGLISH SPEECH]
Hello. Welcome to U Chicago Medicine.
University of Chicago Medicine is a unique academic medical center. Patients seek us out because they certainly have complex illnesses. But they also have illnesses that are life-threatening and very stressful for them. The reason to come to University of Chicago Medicine is we offer, not only just innovative therapies for patients, novel therapies for patients, you will get a view into tomorrow's therapies here today.
I think the University of Chicago prides itself in being able to provide a welcoming environment for people who have ideas that are unconventional. And our campus has many people who don't quite fit into the conventional boxes but they are innovative. They're creative. They've got interesting new ideas. They challenge existing paradigms in creative and constructive ways.
We, at the University of Chicago Medicine within the international program, want to make sure that patients from all over the world can get access to some of the best care here. We're recognized as one of the top teaching hospitals in the nation. We have a variety of clinical centers of excellence. And just to name a few, we have a designated comprehensive Cancer Center. We have a Heart and Vascular Center, with transplant outcomes that are some of the best in the state of Illinois right now.
We have a world class Women in Pediatric Center, so from a clinical perspective we have state of the art care for our patients. We recognize it's hard for patients to leave their homes and come here for care. And when possible, we try to keep patients in their own homes for care. But when they can't, and we recognize that we have a therapy, or we have some kind of a procedure, or a clinical innovation that will help a patient based on the condition that they have, we do what we can to make sure that we get them the best care here.
Sulaimon was-- we noticed that he sleeps a lot. He's tied most of the time. He complains of rapid heartbeat. It started to get worse, you know, day after day. We reached the point that his legs started swelling. So that was the red flag basically. So we took him to hospital. We did an X-ray. And the heart was-- was huge basically. There was no pulse. And they resuscitated him with DC shocks, CPR for like 30 minutes but didn't revert back to normal.
So we even thought that-- they called us, and they said, well, it's-- it's over. Your child is not going to make it. It's only by chance that my-- his doctor back at home, he said, well, there's a doctor coming from Chicago. He's coming for a meeting I think or something. And I'll let him have a look at your son. I said, OK. Why not.
So I was in Kuwait to do some talks and to meet with some of the cardiologists and talk about our program. It just so happened that his father was a doctor in the same hospital, so I talked to the father as well. And I told him that the best opportunity for Sulaimon to have any type of quality of life is to hope that he ever becomes a transplant candidate. But obviously in that condition, and how sick he was, and the fact that none of his organs were working, he really wasn't a transplant candidate. And I said, well, come to University of Chicago and we'll give it a shot.
When I knew that Sulaimon was sick. He had heart disease. And he needed to be treated soon, because his heart function was about 20%. It was my pleasure to travel to another place. I was not scared. But I wasn't able to leave him, not even for one minute.
So he got transported over on air ambulance, came over on total artificial heart. And over the next six weeks or so, he started getting better. His kidneys got better. He was able to come off the ventilator. He started to walk around the unit, and essentially endeared himself to the entire Heart and Vascular Center and all the nurses on the fourth floor.
So for every single patient who wished to come to University of Chicago Medicine, when they first submit their request to us, with their clinical records, so I first review these records and making sure they are sent to the appropriate specialist for review. So here we're making sure everyone's case is triaged for the right person. And we want to make sure we can make a difference. So if after review there's any treatment options that's not available in home country that we can offer here, we will go ahead and let the patients know.
We pride ourselves to have a state of the art, five star level guest services unit for international patients. What we do is we start communicating with the patient prior to arrival to the United States. We work with them on understanding their needs from housing standpoint. And we give them an area of-- area of choices on where to stay, depending on their preference. So we are able to place our patients in hotels, in extended stays, and corporate housing.
Upon arrival, we have a tailored meet and greet service for every single patient in the airport. So that when the patient arrives to land in Chicago, we have a team that will go and pickup the patient, drop them free of charge at their destination here in Chicago, check them in also in there, whatever they're staying, whether it's corporate housing, or whether it's hotel. We set up their cell phone service. We set up their banking.
And then we give them guidance about ethnic grocery to them. If they're looking for worship places, we guide them through that. Basically we answer all their questions that they have. Anything that is not clinical, the guest services unit is in charge of.
So as an international program coordinator, I am like a liaison. I act as like a-- I connect the patient with our physician, our care team here, and the embassy, which is like the guarantor. All of us coordinators are also certified interpreters. In addition to having interpreter services, we have in-person interpreters. And we also have over the phone, 24/7, and iPads available to our inpatients. We put them in the room. We stay in communication. We remind them about their appointment the day before.
If there's any instructions, any labs, any results, anything like that, so we always touch base with them, just to ensure that patient understands the plan of care from every aspect, and facilitate communication between them and our care team. Talking about Sulaimon, the first thing, I mean, when they see a familiar face, right, someone that speaks their language, this is huge. This is why it's so essential when they get here to have someone, not just a coordinator, it's someone that speaks their language.
Everything was arranged, basically, from the ambulance since we started coming here. They offered as well to give us accommodation. They provided a social worker to communicate with us. And of course, Claudia was daily with us, talking to us. Even if we are not there, she is-- she would visit Sulasimon every day. She was like the port of communication. We would talk to her to communicate with other doctors. If we had any comments or complaint, I would go back to her.
Everything was going through the international office and Claudia, basically, accommodation, transportation, and arranging doctor meetings, and everything. So everybody was helpful and professional and emotional at the same time. The surgery took a long time. They were calling this I think every hour to tell us about the update.
Well the surgery went great. And he's actually done remarkably well. He's actually assimilated himself into American culture, and goes to school here, and enjoys going to schools learn English.
I'm satisfied with this experience. I want to thank this hospital that opened a door of hope and happiness to the whole family. They continued providing care until the last day when he was discharged. And they're still doing that. I want to thank everyone, from the biggest employee to the simple ones. I want to thank all employees, and everyone that worked with us. They always had smiles on their faces. They were always optimistic. I'm satisfied with my experience. The hospital was more than great.
So I would like to thank them all, all the staff, medically, nurses, social worker, everybody actually was doing a great job.
Clinical Coordination
Meeting Your Medical Needs
We offer a wide range of amenities and services to meet our international patients' medical needs, including:
Pre-intake preparation before arrival to Chicago
Clinical triage and management of care by experienced medical directors
Scheduling of medical appointment(s)
Escort of patients to medical appointments
Medical interpretation for more than 50 languages
Scheduling of follow-up appointment(s)
Assistance with medical records
Medication consolidation and prescription delivery to hotel/apartments in Chicago
Discharge planning and continuity of care with home country physicians
Guest Services
Meeting Your Non-Medical Needs
For our international patients' non-clinical needs, our Guest Services Unit provides personalized services based on individual preferences. Our goal is to ensure you get the care you need and deserve.
Our services include:
Meet-and-greet at the airport, regardless of arrival time
Complimentary private airport pick-up/drop-off
Complimentary private transportation to/from each medical appointment
Assistance with daily tasks, such as opening a bank account, obtaining cell phone service and more
Lodging arrangements with local hotels, apartments and corporate units at discounted rates
International primary care clinic for patients and companions
International patient lounge in downtown Chicago that features a range of amenities
Assistance with cultural orientation
Concierge services for dining and entertainment
International Programs At UChicago Medicine: Sulaimon's Story
14 year-old Sulaimon needed a new heart, but his needed treatment was not available in his home country of Kuwait. His family found the help he needed thanks to Dr. Jeevanandam and the International Programs UChicago Medicine.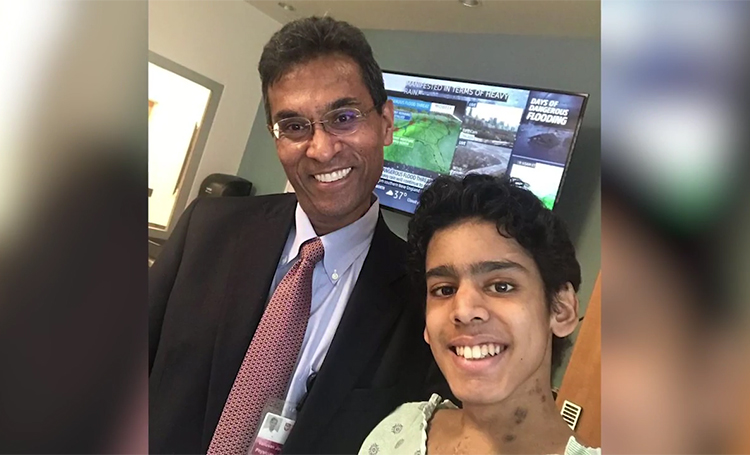 International Program Articles
Request an Appointment
Please complete this secure form. The information you provide will enable us to assist you as efficiently as possible. A representative will contact you within 24 hours to help you schedule an appointment.
Please note that electronic request form is not for same- or next-day appointments. If you prefer to speak to someone directly, please call +1-773-702-0506. If you have symptoms of an urgent nature, please call your doctor or go to the emergency room immediately.