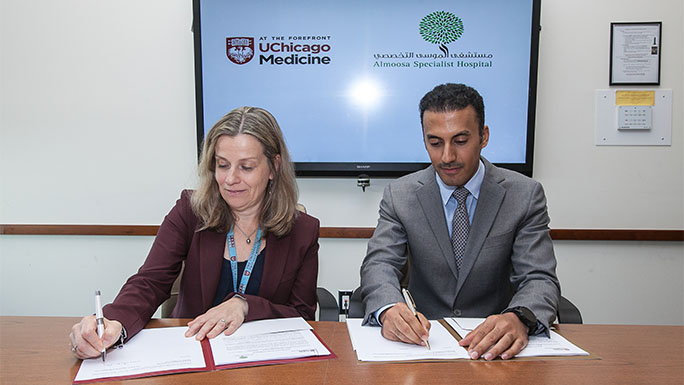 UChicago Medicine's team of talented administrators and clinicians actively provide advisory and consultation services around the world in an effort to share knowledge and skills. Examples of advisory projects include, but are not limited to:
Facility Planning and Development
When UChicago Medicine opened its state-of-the-art hospital, the Center for Care and Discovery, we used the highest industry standards for hospital development, which allowed us to transform how we care for patients by providing innovative technology that delivers the most advanced clinical treatments and improves safety. Our development team shares this knowledge with our international partners who are building or refining health care facilities.
Clinical and Research Program Development
With a full range of specialty services — more than 40 institutes and centers — and a mission to advance medical innovation through research, UChicago Medicine researchers, health care professionals and administrators can assist international partners with developing and managing clinical and research programs.
Quality Improvement and Patient Safety
Quality and safety are central to everything we do at UChicago Medicine. We demonstrate our commitment to safety by being one of 23 health care organizations in the United States, and the only academic medical center in Chicago, with a consistent A grade in hospital safety. We can share UChicago Medicine's expertise and experience in quality management and patient safety with our partners to improve their practices.
Operational Optimization
UChicago Medicine's Operational Excellence Transformation is based on the philosophy of E4 Leadership, which includes lean methodology within daily processes, managing daily improvement and Kaisen events for continuous improvement. Our methods have allowed UChicago Medicine to have one of the most highly respected supply chain groups in the industry. We are happy to help hospitals around the globe improve their hospital management and operational optimization.
​Shanghai Blue Cross Brain Hospital
UChicago Medicine signed a collaboration agreement to provide Shanghai Blue Cross Brain Hospital with a gap analysis to assess current operation and advise new program development and clinical efficiencies.
​Almoosa Specialty Hospital
The University of Chicago Medicine and Almoosa Specialist Hospital, a private hospital in the Al-Ahsa region of Saudi Arabia signed a collaboration agreement, under which UChicago Medicine provided advisory services to Almoosa Specialist Hospital to help enhance several clinical programs and hospital management.
Saudi National Guard Health Affairs
Experts in UChicago Medicine Cancer Center provided a gap analysis to assess feasibility and readiness to establish outpatient stem cell transplant unit at King Abdul Aziz Medical City in Jeddah, Saudi Arabia.
Country Garden Holding Company
UChicago Medicine provided a consulting service for Country Garden Healthcare to develop a feasibility study and business plan for its new hospital development in Guangzhou, China.
King Abdulaziz University Hospital​
UChicago Medicine sent a multidisciplinary team of experts to King Abdulaziz University Hospital to advise the hospital on operations improvement in the areas of emergency medical services, nursing management and materials management.