Skip to content
Un niño emprende un duro viaje para dar batalla al neuroblastoma, un cáncer infrecuente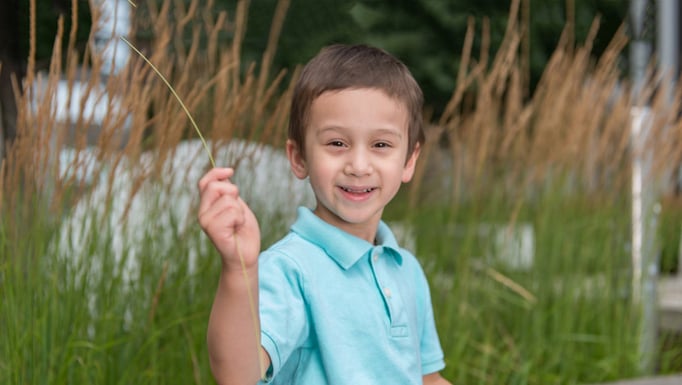 Charlie Betzold adora jugar con su colección de animales de juguetes. Él está feliz de contarnos su lista de favoritos: elefantes, jirafas, cebras, gorilas, monos y perezosos.
Teniendo tantos favoritos podía mantener ocupado a cualquier niño. Pero en el otoño de 2014, Regina Wan and Eric Betzold empezaron a preocuparse cuando su joven hijo dejo de estar activo. "El empezó a tener mucho sueño, perder las ganas de comer y no jugar como se supone lo haga un niño de su edad", comentó Regina.
Cuando Charlie no mejoró, la pareja de Jefferson Park lo llevo a una sala de emergencias cercana.
Allí, ellos recibieron un diagnostico que les desagarró el corazón. Charlie tenía un cáncer pediátrico inusual llamado neuroblastoma. Él fue llevado en ambulancia al Comer Children's Hospital de University of Chicago Medicine.
"Entonces nuestra vida se convirtió en un torbellino" dijo Eric. "De repente estábamos viviendo en el hospital. Charlie había perdido mucho peso y se lo veía muy enfermo"
La Dra. Susan Cohn, oncóloga pediátrica y autoridad en neuroblastoma, se reunió con la familia apenas llegaron al Hospital Pediátrico Comer. Las noticias se hicieron aún más difícil de soportar. El cáncer, el cual había empezado en su abdomen, ya se había diseminado. El tratamiento para tumores de alto riego seria complejo.
"Un neuroblastoma de alto riesgo es particularmente difícil de tratar", dijo Cohn, no más de 50 a 60 por ciento de los niños con la enfermedad logran una supervivencia a largo plazo. "Estamos buscando nuevos y mejores tratamientos".
Regina y Eric recuerdan que el equipo de Cohn los guio por un riguroso plan de tratamientos que incluía un ensayo clínico con una nueva terapia combinada. "Ellos no lo hicieron sonar fácil, pero nos dieron todos los conocimientos para que tomemos las decisiones en cada etapa del camino" dijo Eric. "Y además nos tranquilizaron".
Cohn les contó a los padres de Charlie sobre un ensayo clínico que prueba la efectividad de agregar una droga, llamada MIBG, que contiene una forma de iodo radioactivo (I131-MIBG), al tratamiento estándar para neuroblastoma de alto riesgo, el cual podía incluir quimioterapia intensiva, cirugía, trasplante de stem cell, radioterapia e inmunoterapia.
MIBG, o mataiodobenzilguadina, es un compuesto que es absorbido activamente por las células de neuroblastoma. Durante el tratamiento, el I131-MIBG es administrado a los pacientes a través de una infusión endovenosa. Tan pronto las células cancerígenas absorben el MIBG, el iodo radiactivo es liberado matando las células tumorales. El Hospital Comer Children es el único que ofrece este tratamiento en Illiniois.
"Nosotros hemos estado usando I131-MIBG en tratamientos para niños con recidiva de enfermedad por más de dos décadas y hemos visto buenas respuestas" dijo Cohn. "Es uno de los mejores agentes activos disponibles para el neuroblastoma recidivado. Ahora queremos evaluar si el tratamiento con MIBG puede mejorar las tasas de sobrevida para niños con diagnostico reciente de neuroblastoma"
En Marzo de 2015, después de cinco ciclos de quimioterapia y cirugía, Charlie recibió el tratamiento con I131-MIBG. Unas cuantas semanas después, se sometió a una alta dosis de quimioterapia seguido de un trasplante de stem cell y radioterapia. Además el recibió un tratamiento adicional con inmunoterapia por seis meses.
"Para una persona tan pequeña, todo el tratamiento fue difícil de manejar", recordaba Regina sobre la travesía de su pequeño hijo.
"Nosotros sabíamos que iba a ser intenso", agregó Eric. "Charlie era joven y no se acordará, pero la experiencia está grabada en nuestras mentes"
A pesar de todo, la pareja trató de estar fuerte frente a Charlie y mantener sus vidas lo más normal posible. Ellos se apoyaron en sus familias, en un grupo de apoyo on line sobre neuroblastoma y en el cuidado del equipo de Comer Children's Hospital – una combinación potente para ayudar a Charlie.
"El neuroblastoma puede causarte efectos colaterales muy significativos y hospitalizaciones prolongadas", dijo Cohn. "La experiencia es dura para el paciente pero también muy estresante para toda la familia. Inclusive en los momentos en que Charlie no se sentía bien, él y sus padres lograron mantenerse positivos".
Hoy, tiene cinco años, está feliz, saludable y lleno de vida y energía.
Eric dijo "El cáncer no puede competir contra las investigaciones increíbles que han tenido lugar en los últimos años. Todo se combina para darles a los niños como Charlie una mejor oportunidad para vencer al neuroblastoma y otros tipos de cáncer pediátricos".
Y ese es el objetivo final: "Vamos a seguir trabajando muy fuerte hasta que curemos a todos los niños" dijo Cohn.
Programas Internacionales