Skip to content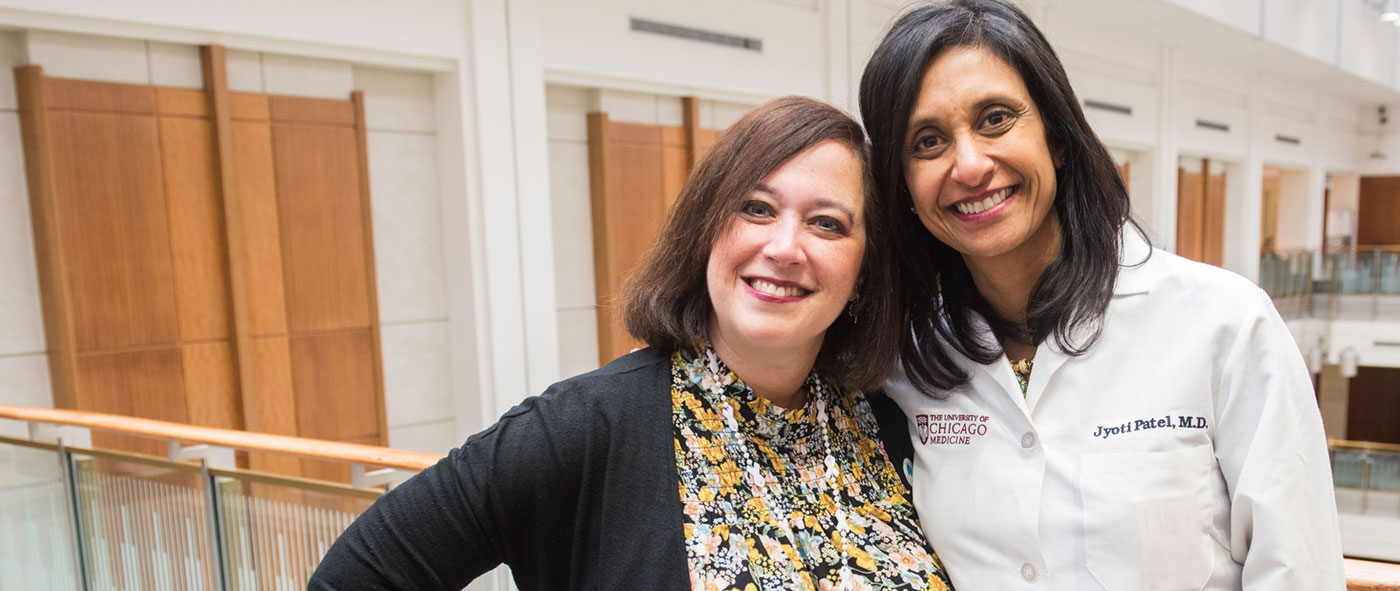 Nine Reasons Why You Should Choose UChicago Medicine for Lung Cancer Care
1. Experience
Our lung cancer experts have more combined expertise than any other lung cancer physician team in Chicago. UChicago Medicine's team includes experts in eight specialties.

These specialists provide care at convenient locations in Chicago, New Lenox and Orland Park.
2. Screening
When lung cancer is detected early, treatment can begin sooner, giving patients a higher chance of success. We use advanced tools and techniques to screen and monitor people at high risk of developing cancer. Low-dose CT scans are quick and painless diagnostic tests for detecting very small changes in the lungs that could indicate cancer. During fluorescence bronchoscopy, our pulmonologists use a thin, lighted tube to look for tiny tumors in the lungs.
3. Risk Reduction and Prevention
The most effective way to reduce your risk of developing lung cancer is to quit smoking. We provide a variety of programs for individuals whose addictions, lifestyle or medical histories put them at high risk for the disease.
4. Less Invasive Diagnostics
Our pulmonologists biopsy some cancers without surgery and, in many cases, also treat cancer hidden in the airways of the lungs without invasive surgery.
5. Matching Treatment to the Tumor
Genetic changes can drive a cell to become cancerous or cause cancer to spread. Our molecular pathology lab searches across more than 1,000 genes to screen for these mutations for every patient with lung cancer. Therapy can then be matched, or targeted to, the specific genetic changes in each tumor.
6. Clinical Trials
Patients have access to the most clinical trials of the newest targeted treatments, including immunotherapies that supercharge the power of the immune system to fight cancer. These treatments are not widely available and hold tremendous promise.
7. Precise Radiation Therapy
Our radiation oncologists are leaders in using the latest technologies for lung cancer — including four-dimensional mapping and image-guided treatment — to deliver targeted radiation therapy to the tumor, while sparing nearby healthy tissue.
8. Minimally Invasive Surgery
UChicago Medicine lung cancer surgeons are board-certified thoracic surgeons who focus on treating diseases only of the lung and chest. They perform surgery using minimally invasive techniques, which results in smaller scars, less pain and fewer complications after surgery as compared to traditional open procedures.
9. Supportive Care and Aftercare
We take a holistic approach to helping our lung cancer patients, from diagnosis through treatment and aftercare. We support patients and provide hope for families through resources such as smoking cessation programs, physical therapy and nutrition, mental health and financial counseling.
Our Lung Cancer Care Team
The lung cancer team at UChicago Medicine includes experts in the following specialties:
Medical oncology
Radiation oncology
Surgical (thoracic) oncology
Interventional pulmonology
Thoracic radiology
Geriatrics
Pathology
Cytology
UChicago Medicine Lung Cancer Care Locations
Request an Appointment
The information you provide on this secure form to request an appointment with a UChicago Medicine lung cancer expert will enable us to assist you as efficiently as possible. A representative will contact you within one to two business days to help you schedule an appointment.
You can also make an appointment with our providers by:
– Scheduling a virtual video visit to see a provider from the comfort of your home
– Newly diagnosed patients can schedule a 15-minute introductory Express Expert Cancer Opinion virtual session at no cost
– Requesting an online second opinion from our specialists
To speak to someone directly, please call 1-855-702-8222. If you have symptoms of an urgent nature, please call your doctor or go to the emergency room immediately.
For Referring Physicians
To refer a patient for lung cancer care, please call UCM Physician Connect at 1-800-824-2282.