Skip to content
Carissa's birth story: Mom experiences natural childbirth with doula, midwife support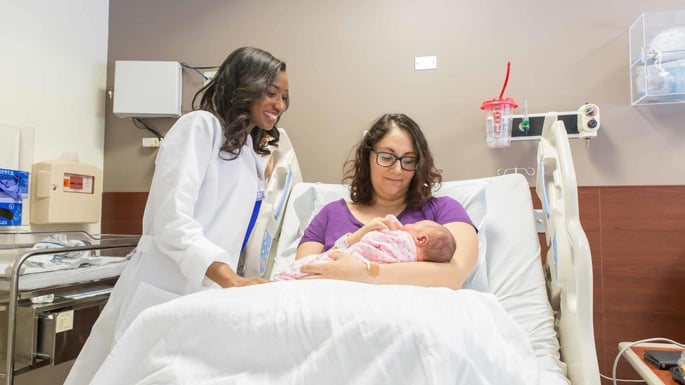 Carissa Abrego-Collier snuggles her newborn, Marina, while a midwife at the University of Chicago Medicine Family Birth Center looks on.
When she became pregnant with her second child, Carissa Abrego-Collier knew what she wanted for her birth experience.

During her first appointment with obstetrician, Adrianne Dade, MD, Carissa shared her wish list: minimal intervention; no medications, if possible; and a doula (a non-medical birth companion) by her side during labor and delivery.

"Dr. Dade was immediately supportive, and told me, 'What you want to do is fine,'" Carissa said.

"I explain to patients that we provide a family-friendly atmosphere centered on their requests and needs as well as the safe delivery of their new family member," Dr. Dade said. "We want the labor and birth experience to be personal and as fulfilling as possible."

Five days past her due date and with a slightly elevated blood pressure, Carissa checked into the Women's Care Center at the University of Chicago Medicine on Dr. Dade's recommendation.

Carissa needed assistance to move her labor along, but did not want to be induced. The attending physicians suggested dinoprostone (Cervidil), a vaginal insert that starts, or continues, to ripen the cervix of a woman when she is close to delivery.

Her husband Kevin, her doula, as well as the nurses and doctors on the labor and delivery team, supported Carissa as labor progressed. Wireless monitoring enabled more freedom of movement including short walks in the hallway.

Erin Irwin, APN, CNM, director of Midwifery Services at UChicago Medicine stopped by the room to check in.

"Erin told me she heard from the staff nurses that I wanted a natural childbirth and was very encouraging" Carissa recalled. "She brought me a birth ball that relieved pressure on my hips and back. It was very helpful as a comfort measure."

Later in the evening, the doula further eased labor discomfort with the use of essential oils and by suggesting a warm shower and different resting positions.

In the early morning hours of Friday, May 20, 2016, Carissa and Kevin welcomed a healthy baby girl and named her Marina.

"She was put on my chest right away," Carissa said. "I was able to hold her a long time before she was taken to be weighed and measured."

Carissa appreciated that the nurses and doctors on the medical team were on top of things but also gave her the space she wanted to optimize her birth experience.

"They let things happen the way we wanted them to happen," she said.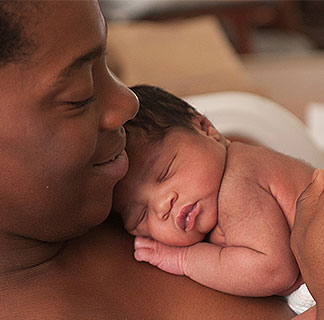 Family Birth Center
The Family Birth Center offers a customized birth experience in the comfort and privacy of our nurturing environment. Our team of experts support expectant mothers and families with compassion and respect through pregnancy, childbirth, bonding, breastfeeding and healing.
Learn More
Obstetrics and Gynecology Articles