Skip to content
At the Forefront Live: Breast Cancer Awareness & Care
At the Forefront Live: Breast Cancer Awareness & Care
[MUSIC PLAYING] Hello and welcome to the "University of Chicago Medicine At the Forefront Live". October is Breast Cancer Awareness month, so we invited a panel of activists and experts to join us today to talk about breast cancer and answer as many of your questions as possible. Now, our guests today include Meg Fischer of the American Cancer Society, Des Clark, former pro football star, Dr. Jennifer Tseng, and Dr. Jean Bao.

So get your questions ready, and we'll try to answer as many as we possibly can over the next half hour. And we do want to remind our viewers that our program today is not designed to take the place of a medical consultation with your physician. We're going to start right off with our questions, and we're going to start with you, Meg. Tell us a little bit about yourself and the American Cancer Society.

Yeah, absolutely. So again, my name is Meg Fisher. I'm the Senior Manager of Hospital Systems for the State of Illinois. And I work here right in the Chicago land area. I'm just really happy to be here with Tim and Des today.

Des, how about you? You're very involved in breast cancer awareness. Why is that?

Well, my mom passed away from breast cancer almost three years ago. In nine days, it will be exactly three years. So that impacted me, obviously. And then once that happened, you become more aware of what's going on, because now you're impacted. And you know, it just started from there. And now I'm in the fight. And I just want to have a world free of breast cancer.

Great, great. Meg, tell us about the Pink Powered By People campaign, if you will.

Yeah, absolutely. So this is a wonderful partnership between the University of Chicago Medicine, the American Cancer Society, the Chicago Tribune, and people like Des. So it's about the people behind breast cancer. So the patients, the survivors, but also their caregivers, their medical teams. All of those people who have a voice because they've been impacted by breast cancer, we want to give them the opportunity to share how that has impacted them.

And how can people get involved in Pink Powered By People?

Well, there's a few ways. The first thing is that we want people to get screened. So it is October. Make sure that you're getting your mammograms. Women are notorious for not taking care of themselves, but taking care of others. So make sure you're taking time out of your schedule to go ahead and do that. And second, we're asking people to share their stories. With hashtag pink three, you can share your story as a survivor, a patient, maybe a son, a daughter, anyone who is impacted, we want to hear your story. And maybe it's your story that's going to cause action in someone else, and make them get screened or take that first step.

Des, I noticed you were you were nodding your head when she was talking about a lot of times, women will take care of other people before they take care of themselves. And you also have a daughter, correct?

I have twins girls.

Twin girls, so, yes. So this is very personal to you.

It's very personal to me. Before my mom passed, one of the things that she wanted to get tested, to make sure it wasn't hereditary for her granddaughters. And it wasn't, but for me, it's all about telling a story, like you said. The more we tell the story, the more we're out there, and the more we're having the conversation, and the more other people could feel comfortable about telling their story. And for my mom, I know she wanted to be someone who helped impact others in a way of being an outlet. To say, hey, this is what you're going to go through. These are all the challenges you're going to face. But then there's still life to be lived after that.

So Pink Powered By People, and what I do at Pink Tuesday is all about trying to build that community of people that's just showing love, and showing grace for those people that has gone through, fighting through, died from, or are affected by cancer in any type of way.

And we're going to get into more detail on the Pink Tuesdays here in a minute, because I'm very interested in that. But, Meg, tell us a little bit-- you know, if people are watching this at home, or in their office, or whatever, how can they get involved, raise awareness, and help beat breast cancer?

Yeah, absolutely. Chicago's a very generous community, so we're very fortunate to be here. And there's a variety of ways. One, you can, again, share your story, get screened. But you can also get involved with the American Cancer Society. We have our Making Strides Against Breast Cancer walks coming up. There are 200 across the country, and there are some right here in Chicago. So on October 20th, we'll be at Soldier Field. I think, Des, you might be out there with us that day showing your support. So we encourage people to come out to those walks.

Oh, sorry, go ahead.

Des, you're actually on the board of the American Cancer Society, is that right?

Yes, just recently.

Great, great. What's that experience been like?

Well, we're still getting there. I haven't had the first interaction yet, but I'm ready to go. Because, like I said, this is something passionate for me. And whatever I can do, whatever I can lend to the fight, I want to lend to that fight. And from what I know of the people that I've met so far, it's great group to be with, and they've done so many great things, and I just want to be a part of it.

And the reason I ask that, because-- you guys didn't see this, probably some of you saw it, but you didn't see this before we got going. Des was asking all kinds of questions about going live, and how can he get the Pink Tuesdays going, and everything else. So this is a guy that's-- he's walking the talk. And definitely is involved, and getting even more involved. And that's neat to see. So tell us a little bit about what you hope to achieve by working with the American Cancer Society, and what do you want people watching today to know, and to do, ultimately?

Well, I think I'm falling right in line with American Cancer Society for what I want. I want a world that's free of cancer. All cancers, but I know, for this month, we're really focusing on breast cancer. But a world free of all cancers. And whatever that fight is, when I get into the trenches with the rest of my board members, I'm just going to, you know, follow orders. And whatever I can do, whether that's raise money, awareness, Cindy's talking about doing some stuff and bringing more awareness through the media. However I can be used, I just want to be a servant to this cause, and just make the best of my time and ability to do so.

Now, we want to remind our viewers, if you do have questions for either one of our guests, please start typing and we'll try to get to as many of those as we possibly can. And we also want to remind our viewers, we will have two physicians on here in just a few minutes to also take your questions about breast cancer, and we'll try to answer as many of those questions as we can. So, Meg, talk to us a little bit about the American Cancer Society. What types of services do you offer, and how can people learn more?

Absolutely. There's a variety of ways you can learn more about the American Cancer Society through our website at cancer.org. We're available 24 hours a day, seven days a week, 365 days a year at our 800 number. So you can call us there, but our programs and services really focus on access to care. So providing transportation and lodging for patients who have those barriers, making sure women know where they can get screened, and men as well. Like Des had said, you know, this is Breast Cancer Awareness month, but we focus on all cancers at the American Cancer Society. So you can call us at any time and learn how you can get screened for a cancer that's important to you.

How often should women be screened?

You know, that's a really good question, and something that you really need to talk to your doctor about. So there are different guidelines out there, as I'm sure many of you are aware. And it depends on your risk factors. It depends on your family history. It does mention genetics. You want to talk to your physician and get all of that information, so that they can give you the best and most informed decision about when you should start getting screened.

Now, the American Cancer Society is making strides against breast cancer. And there are events happening this month all around the country. You see it on TV, you see it everywhere you go, which I think is a very positive thing. How can people get involved in these events with the American Cancer Society, and what, specifically, can people do?

Absolutely. Well, if you're interested in walking with us, go to MakingStridesWalk.org and make sure that you're finding the walk in your area, and coming out and joining us. They're free of charge to attend, and we want to celebrate the survivors and caregivers who come that day. That's your most important way, but you can also get connected with us through volunteerism by going there as well. We have over 1.5 million volunteers, Des being one of them. So there's a place for you at the American Cancer Society, if that's something you interested in doing.

You know, the neat thing about that, too, is you don't have to be a former pro football player to volunteer. You know, people come from all walks of life, and they can be very involved at all levels. So that's exciting. Des, now, you are very involved. So let's talk about something very special that you do, and it's called Pink Tuesdays, is that right?

Yes.

So what is Pink Tuesdays, and how do people get involved with that?

So Pink Tuesdays just started out me honoring my mom very, very quietly, just by wearing pink shirts on a Tuesday, because she passed on a Tuesday. And as I continued to do this, the people at my job noticed that I wear a lot of pink. And they started asking me questions about it. And I told them what it was for, and it became Pink Tuesdays. And people around the job started wearing pink shirts, and then I started talking about it on social media, and now I've got people in all different states, some different countries, and some different continents, with the pink shirts.

And the way to get involved in it, really, is, I have Desmond Clark Foundation, and I'm teamed up with American Cancer Society to raise money for a couple of those programs that you talked about. And in particular, the Road to Recovery. When I was introduced to Road to Recovery, that really hit home with me, because I never thought that there's people out there that just can't afford to get back and forth just to get treatment. And I really believe that people should have the ability to fight this disease. So Pink Tuesday is from my mom and just honoring her, but it's grown into something much, much bigger.

Well, you know, The Road to Recovery is-- that's a great segue for the next question that I have, which came from one of our viewers. Do the ACS have any services to help women who can't afford a mammogram? Can we talk a little bit about The Road to Recovery and some of the other services that are available for women that maybe, you know-- because that's, to me, that's a tragedy, if you have the situation, but you can't-- you don't feel like you can afford to get help. That's horrible.

Absolutely. And Road to Recovery, for those who don't know, is our volunteer-based programs, where we provide transportation to all individuals who are receiving cancer treatment who can't get there on their own. That's through public transportation, but also our volunteers. So a call to action for all of you viewers out there, is that if you have a car and you have some free time and you'd like to volunteer by driving cancer patients, we'd love to connect with you.

But it's a wonderful program, because any cancer center across the state and across the country could tell you that their number one barrier to care is transportation. So we try and meet that need by providing services for those individuals. And we really appreciate Des getting behind that, because it's so very important.

Yeah, if you can't make it to your appointment, then you're not getting help. What are some of the other things that people can-- you know, if somebody is out there, and they just feel like they can't afford the help, what other avenues do they have?

Yeah, absolutely. So you can call us at the 800 number, like I had mentioned. 1800-227-2345, and you can get connected. We have programs, actually, specific in Chicago to help women navigate that process to get screened. If they don't have insurance, if they have challenges with their insurance, we can help you navigate that, and at least understand what health facilities might be able to assist, if there are no or low cost mammograms in your area, but the most important thing is call us, and let us know what your barriers are, and we'll try and help and find the right resources to get you connected to what you need.

And Meg, I'm curious. The American Cancer Society has played a part in nearly every major cancer research breakthrough in recent history. This research includes many ACS-funded studies right here, even at the University of Chicago, which is pretty neat. Tell us a little bit about that. Those are funded through donations, and those really make a significant difference in cancer patients' lives.

Absolutely. A lot of people don't know that, since 1946, we funded $4.8 billion in cancer research. So you can imagine that's funded a lot of those cancer breakthrough. Something we're really, really proud of. Right now, we have just over $61 million invested in breast cancer research. And, like Tim had just mentioned, some right in this very building at the University of Chicago.

So research is really important to us, because we know that going from bench to bedside, getting those discoveries in the lab, and bringing them to the patients, is what's going to actually help fuel a cure for cancer. So we're very invested in the American Cancer Society and making sure that those are well funded.

So Des, I'm curious. You're a recognizable guy, and people know who you are. And when you're involved in an effort like this, what do people say to you? I mean, are they excited that you're part of this, and they want to jump on board? It sounds like it.

I think so. People-- so since I played football and have some influence, people will come in support just because they see someone that they recognize and can identify with, whether that's just through football, or if they met me in person, and get behind that. And I want to use my influence for that. And one thing I do want to say, a lot of people don't know that the small little donations, or the small amount of times that they can come out and just give their time, is very impactful.

A lot of people think, hey, if I give $5, if I only have an hour to do this, well, I'm not really doing anything. That means an awful lot to this effort trying to fight cancer and breast cancer. So if you do have that hour, or if you do have that $5, there are very, very good ways that we can use that time and money to fight this disease.

And through these efforts, breast cancer is being found earlier than it ever has been, is that correct?

Yeah, yeah. You know, and a lot of that has to do with access to care, better screening technology, and just the awareness. Talking about breast cancer used to be something that was taboo a couple of years ago. But it's not anymore. Women are very comfortable talking about breast health and making sure that they're getting screened, and it's so important. Early detection is one of the best things that you can do to beat a breast cancer.

You know, I want to throw up some statistics, because I think this just shows how important this work is. Breast cancer is the most commonly diagnosed cancer in women in the country. It's also the second leading cause of cancer death, more than 265,000 estimated new cases of breast cancer will be diagnosed in the US this year.

Pink is powered by people. There are more breakthroughs to come. We're very excited about that, and that's really why you guys are just so special and so important to us. So we love the fact that you're involved in this. Now, many breast cancer patients form close bonds with their physicians. It's a difficult journey. But with the right care and the right team, it can be more manageable. Here's a story of one of U Chicago Medicine's patients who fought the battle and won.

[MUSIC PLAYING]

Just randomly and had felt some pain, and was able to feel something near my chest wall that didn't seem normal. And I didn't automatically assume that it was breast cancer, but I knew it was something that I should get checked out. My initial thoughts were that I was going to die, that this is something that was just an awful thing that I wouldn't be able to necessarily get through the way that I have. Because I have friends who have gone through this, and have done some research, and had treatment here, and recommended the University of Chicago.

Dr. Olopade just was a wonderful spirit from our initial meeting throughout treatment. She was able to balance out, you know, weighing risks and talking about very serious consequences, or serious side effects, but also balance that with just a very positive outlook. And it just made me feel still human, not just a clinical relationship.

So I had to really think hard about, what's the best treatment for this young woman who has a lot of life ahead of her, and who is also very scared. Because what I have to do is to be the bad cop, right? And say, you know what, we need to treat this more aggressively, because it has this feature, that if we don't take care of it, we're going to regret it, because then it can come back. And then we came to a shared decision. And she was going to get chemotherapy. We're going to avoid the chemotherapy that could weaken her heart, but then we knew that whatever chemotherapy she got wasn't going to be a cakewalk, right? She's a high functioning professional who wanted to be able to go to work, and she has children.

When I met with Dr. Olopade, she was very hopeful. Made me realize that this wasn't going to kill me. This is just a matter of finding the right course of treatment.

I think we need to remove the stigma about people getting cancer. More people need to get treated early, because fear can make you paralyzed. And too often, people get paralyzed. And they don't get their cancer treated, when, in fact, it could be curable. To really become an advocate for yourself, learn as much as you can, and really feel comfortable with who you're partnering with as your health partner, because you need to really feel comfortable and have a trusting relationship with them. And that helps keep you hopeful, and keeps your attitude positive.

Welcome back. In the second half of our program, we'll be speaking with two doctors who care for cancer patients here at U Chicago Medicine. Dr. Jennifer Tseng and Dr. Jean Bao join us to answer your questions and talk about breast cancer. First of all, if you'll each introduce yourselves, and tell us a little bit about your areas of expertise.

Sure, I guess I'll ahead first. I'm Jean, Jean Bao. I'm a breast cancer surgeon at UC Medicine. I did a general surgery training, that was my training, my background. And I did a breast cancer fellowship. And then became specialized in breast cancer surgery. So breast cancer is something I see almost every day, so it's a cause that's near and dear to my heart. And I'm glad to be here. So thank you for having me.

Dr. Tseng?

I'm Jennifer Tseng. I'm one of the surgical oncologists here. at UChicago Medicine as well. I'm one of Jean's partners, with our third partner, Nora Jaskowiak here at UChicago Medicine. And I'm so lucky to be able to work here with amazing people, amazing staff, and to take care of great patients here at the Hyde Park campus and also in one of our community hospitals, Silver Cross Hospital.

Great. And we want to remind our viewers that we will take your questions. So please type them in, and we'll get to as many as possible here in the next few minutes. We're going to start off with just having you tell us a little bit about the services offered at UChicago Medicine and how they're tailored to the individual patient.

Yeah, sure, I can go. So at U of C we have a multi-disciplinary team of breast cancer experts. We have surgical oncologists, medical oncologists, radiation doctors, and physical therapy, genetic counseling service. And we all kind of work together to provide an individualized and tailored treatment plan for every breast cancer patient, because we know that breast cancer is so heterogeneous and so diverse, and the treatment's becoming more and more individualized based on the type of breast cancer that the individual has.

All right. We can get right into viewer questions. Leslie asks, are there any trials or new treatments for those with the TNBC diagnosis? This person currently is a three-year survivor and very stressful obviously.

Yes. So TNBC cancer, for those of you who aren't aware, that actually stands for triple negative breast cancer. That is one of our more aggressive subtypes of breast cancer that we talk about. University of Chicago Medicine is one of the centers for expertise of our ongoing latest and greatest research in this country and around the world on triple-negative breast cancer.

Myself, Dr. Bao, and our other surgeons partner with some of our excellent medical oncologists, who are running the latest trials on triple-negative breast cancer, for those who are diagnosed very early, as well as those who have very advanced disease. So we definitely welcome patients to come in and have a great discussion with us on what we can offer you, in terms of the latest research trials.

Some of those that you may have heard about are our national collaboratives like the I-SPY trials. And we are partnered with certain pharmaceutical groups through the National Cancer Institute approved trials to be able to offer you some of these groundbreaking research opportunities.

So another of your questions-- Louis asks, how early of an age should women start getting mammograms?

That's a very common question. It can be difficult to answer. I think it depends on the individual and depending on which guideline you look at. For the most part, I would say start screening between the age of 40 to 50. And if you have a strong family history, I would advise you to talk to your doctor and potentially start screening earlier.

It really depends on the guideline that we look at, but somewhere between the age of 40 to 50, and once a year or every two years, depending on, again, your family's history and how likely you are to get breast cancer in your lifetime.

Stephanie has a question for us for women under 40. As far as knowing that a few other family members have had both benign and malignant breast growths, when will you suggest bracket testing for preventable reasons? And that's kind of the hot thing right now, isn't it?

And that's a very important question, and a very smart question that all those who are concerned about breast cancer should be aware of. When should you get genetic testing? So right now Dr. Bao, Dr. Jaskowiak and I usually use certain criteria to really counsel patients on when they should have genetic testing.

That's a very nuanced discussion, because you may sometimes find out information you don't want to know. So genetic testing is very important for those patients who are diagnosed at a very young age, who have a very strong family history, or maybe diagnosed with certain subtypes of breast cancer like triple-negative under the age of 60.

So if you have a question, we welcome you to come in at any time. I think that's a great discussion to have with one of the breast surgeons or those of us who help you out with that here at UChicago Medicine.

And that's a great answer because it's a very personal decision and a very personal journey, I think, for people to go on. So it really has to be tailored to that individual, which is what you guys do. And I think that's really positive.

Right. And I just want to add one more thing. It's for the viewers to know your family history. Know who had what cancers. So if there's a preponderance of cancer in the family, whether it be breast cancer or ovarian cancer or colon cancer, talk to your physicians about it. And not only would you then consider getting genetic testing, but you may also be eligible or benefit from earlier breast cancer screening or more aggressive breast cancer screening.

That's great. Now Jane has a question for us. She is wondering, what is the current state of the art in regard to surgery for women who want to go flat after mastectomy rather than have reconstruction?

So without reconstruction, the current technique of doing a mastectomy is what we call a simple mastectomy where the woman goes flat after surgery. And we have different techniques in doing mastectomies, but all with the goal to achieve a flat chest wall that is conducive to fitting an external prosthesis, if the woman chooses to wear one. And the technique can vary from surgeon to surgeon, but all of us will try to make the chest wall flat without folds in this skin.

And a lot of times when we do a mastectomy, we also want to sample the lymph nodes to see if there's cancer in the lymph nodes. And there are techniques that we use to try to reduce the risk of lymphedema arm swelling when we check people's lymph nodes. And that is something that we offer at the University of Chicago to try to reduce the risk of arm swelling after lymph node surgery.

Great. And we talk a little bit more about lymphedema too because that is an interesting situation. And for some people it's quite debilitating. But we do have some great surgeons here at UChicago to help alleviate some of the issues with lymphedema. Can you explain a little bit more about that to us and tell us what that entails?

I would say this is actually a team effort. It doesn't just involve us as breast surgeons. It actually involves a lot of preoperative teamwork as well as post-operative management. We often partner with our amazing physical therapists to actually do pre-operative assessments for lymphedema, even before going into a surgery where we know we may need to take more lymph nodes, which unfortunately does increase the risk for lymphedema.

As surgeons, we are actually really pioneering some of the latest techniques to try to find and save those lymphatic, those little channels that really are what contribute when those are cut to lymphedema, or arm swelling in the long-term.

And we also partner with our reconstructive surgeons, who have high specialization and extra fellowship training in microvascular surgery. And they may actually be able to offer you a technique that reconnects some of these channels to your other blood supply to try to reduce your risk further. So we are trying to actually do more now on the preventative side, rather than to react to a really bad problem here at UChicago Medicine.

Great. Another question from a viewer, Lisa, who asks, how does screening differ for women with dense breast tissue?

That's a really good question. So frequently on your mammogram results you will see, oh, you have dense breast tissue. You need to talk to your physician about getting more enhanced screening. So what does that mean?

So when we look at breast density, the denser the breast tissue is, the more difficult sometimes it can be to detect a lesion on the mammogram. And so we have different tools that we can use to try to enhance finding additional cancers. And those tools include 3D mammogram or tomosynthesis.

And that is a technology that we offer at UC Medicine. And basically, the technology enhances the detection of finding additional lesions though dense breast tissue. We also have automated whole breast ultrasounds, and we have breast MRIs. Those are all tools that we can use to help detect additional cancers in women with dense breast tissue. But again, we also need to assess the individual's risk of getting breast cancer, and tailor those tools appropriately to the individual.

So when should someone get an MRI, who needs an MRI?

That's a really good question as well, and a very common question we get too. For those patients who have a certain high-risk profile, that's a great additional screening tool for us in our armamentarium as breast surgeons and for breast cancer surveillance.

We do also use it sometimes for those who do unfortunately have a diagnosis in pre-operative planning as well. It's often an important aid for those who may be getting chemotherapy too. If you think that you have an indication for breast MRI screening, we definitely welcome that conversation and we hope to see you for that.

There are a lot of fears obviously out there with cancer, which is certainly understandable. And one of the things that I've seen on the internet before and would like for you to address this-- mammograms. And some people say they actually cause cancer. What would your reaction to that be?

Yeah. That is not an uncommon notion that we hear from time to time for my patients too. And it's not infrequent that we see a patient who has advanced breast cancer and they've never had a mammogram because they fear that mammograms cause cancer.

But I just want to reassure the viewers that mammograms do not cause cancer. The risk of getting a cancer from mammograms is extremely low. The radiation is exceedingly low. The amount of radiation one gets from getting one mammogram, one screening mammogram, is equivalent to being outside for eight weeks. That's how safe it is.

OK, great. So what kind of dietary modifications do people need to make after a diagnosis?

I would usually recommend, when my patients come in and ask me that specific question, actually just to live a healthy lifestyle in terms of your eating habits, and also your other health habits. So there's no indication from what we can see in the scientific literature that you have to cut out all sugar or all fats or anything like that.

We talk about moderation-- moderation and diet, moderation in your alcohol intake, moderation in caffeine intake. But also, most importantly, we know from the most recent studies in breast cancer, you should exercise. Get out and be active. That helps you in terms of your breast cancer health as well as your other overall health.

So how about routine self-checks? People need to still be doing that?

Right. I think it's always a good idea to be aware of your body, be aware of your breast tissue. But if you're going to do a self-breast breast exam, I would encourage you to do it monthly at the same time of the month. I recommend to do it after your cycle ends. That's when your breast tissue is the least busy, just to get a sense of what your breast tissue feels like, at baseline. So if there's a change then you can be aware of that. But do it consistently. I would not recommend just doing it every once in a while. But if you're going to do it, do it consistently once a month.

Do it consistently because you know yourself, and you want to keep an eye on what's going on. So that's smart. Guys, that was fantastic. You were great. We're out of time. We want to thank our friends from the American Cancer Society for their help with the program, and also with cancer research, of course.

If you want more information, please visit our website site at Pinkpowered.org. You can call 888-824-0200. You're also encouraged to visit the American Cancer Society website at Cancer.org, or call 800-227-2345. Thanks again for watching, At the Forefront Live and I hope you have a great week.
We spoke with football star Desmond Clark, American Cancer Society of Illinois representative Meg Fischer, as well as renowned UChicago Medicine cancer surgeons Dr. Jean Bao and Dr. Jennifer Tseng about breast cancer awareness and care.
Breast Cancer Care
Our team represents expertise across the spectrum of breast cancer care: breast imaging, breast surgery, medical and radiation oncology, plastic and reconstructive surgery, lymphedema treatment, clinical genetics, pathology and nursing. Patients receive a comprehensive treatment plan that optimizes chances of their survival and quality of life.
Learn more about UChicago Medicine breast cancer care.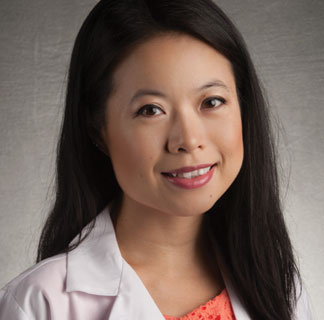 Jean Bao, MD
Jean Bao, MD, is a board-certified general surgeon who is fellowship-trained in breast surgical oncology. She specializes in the treatment of men and women with breast cancer, benign breast disease and patients with a genetic disposition or strong family history of breast cancer.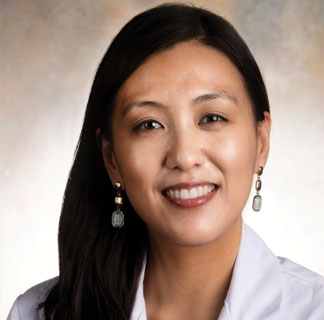 Jennifer Tseng, MD
Jennifer Tseng, MD, is a breast cancer surgeon with fellowship training in breast and complex general surgical oncology, clinical immunotherapy and clinical medical ethics.
Learn more about Dr. Tseng.