Skip to content
Talking tablet improves communication and behavior for 6-year-old with apraxia and developmental delay
So can you introduce yourself to our friends?
Go ahead.
How are you?
I'm fine. How are you?
What's your name?
My name is John. What's your name?
My name is Emmett.
Good boy!
Nice to meet you.
Apraxia is part of his neurodevelopmental complexity and so, apraxia is a disorder of motor planning. We usually think about childhood apraxia of speech for Emmett, which is a disorder related to motor planning for the purposes of speech. And so expressive language has always been a struggle for him.
Once he developed past that point where children were starting to make sounds and words, and communicate, and he was coming to terms that he couldn't, it was just a frustration that he wasn't doing what other kids were doing.
It's really important to enable them to have a way to talk to others, whether it's their parents, or their friends in school, or teachers, to communicate things that they need, things that they want, and also to start to engage socially. And so AAC can be helpful in order to support that.
My hope for Emmett is that he is able to use independently the iPad more and more for his communication, and that also he's able to improve upon his expressive speech.
That's not something to play with, it's something to talk with. It's something to communicate with. That was obviously a learning curve, you know. But the big thing was no matter what, how he communicated with it, you always-- we just always engaged. So if in the middle of the day he just says good morning, we just respond, oh, hey, thank you for saying good morning. Let him know that it's legitimate communication.
Who is this?
Amelia.
What grade are you in, Emmett?
I'm in kindergarten.
I tell him he can use it to talk for anything, like the pledge allegiance, he's able to say the pledge. He's able to participate in our prayers.
Story time.
Story time. He used it to-- I tell him all the time, you renewed your grandma and papa's wedding vows.
I now pronounce you once again husband and wife.
It's a work in progress, that's what we call, work in progress. So he still gets easily frustrated, but it's definitely decreased over time. But now he can specify apple, orange, banana.
And so as we are getting to know him, we're doing some different testing to understand the complexity, and the AAC device was part of that because regardless of the reasons for his language delay, that can be a helpful next step. And I'm so glad that they found it helpful.
It changed our lives, like, he can do anything anybody-- sorry. He could do anything any other kid can. He's an average six-year-old, but just his voice isn't ready yet, you know? So the talker is really giving him a chance to communicate just like everyone else.
When Emmett Carroll, 6, meets someone new, he looks at them, smiles and pushes a button on his tablet.
"Hi, my name is Emmett. Nice to meet you," an electronic voice says from his handheld device. A big smile spreads across his face when he sees his message is heard.
Emmett's tablet is an augmentative and alternative communication device (AAC) designed for children with speech delays. While Emmett can verbalize a few words and sounds, he is largely unable to speak because he has apraxia and a neurodevelopmental disability.
He was recommended for an AAC by University of Chicago Medicine Developmental and Behavioral Pediatric specialist Sarah Sobotka, MD, who has been assessing Emmett's complex case since the spring of 2021. She's part of his broader neurodevelopmental support team that includes special education providers at his school, plus a private occupational therapist and speech pathologist.

Because Emmett met certain qualifications, his speech pathologist, Greer Simpson from Westside Children's Therapy in Plainfield, was able to secure him an AAC from the Disability Resource Center in Joliet at no charge.
Emmett has visited doctors and speech therapists since he was a toddler. Because he did not speak, doctors suspected he had autism. However, test results proved otherwise. He was diagnosed with apraxia, a neurological motor speech disorder that makes it difficult to coordinate the muscle movements for speech. So even though he may know what he wants to say, he's not able to say it.
"For most of us, when we want to say something, that's a very automatic process. We're able to tell our facial motor muscles to make a certain sound. For children with apraxia, it's not that fluid. They have trouble telling their body and their muscles to move the way they want them to," Sobotka explained. "Emmett has to work on all the steps to make his mouth say the things he's thinking about saying."
AACs are not exclusively used by patients with apraxia. Children and adults with autism spectrum disorders, cerebral palsy, motor disorders and other expressive language disorders also benefit from these devices.
Emmett's AAC — or "his talker," as his family nicknamed it — has been a game-changer, said his parents, Mike and Kristin Carroll of Wilmington, Illinois.
It's equipped with the TD Snap app, which anyone can download. It allows for thousands of icons to be added to help Emmett express different emotions or identify different items. Emmett's tablet currently has more than 1,000 icons that can be customized.
This has changed our lives. Just to hear him engage with someone back and forth. I can't even tell you how much that means to us.
Since he started using the device in fall 2021, there has been a learning curve, but he's gradually progressed and now uses it to participate in school and family life. By touching an icon on his tablet, he can tell his mom he's hungry or that he wants to play baseball. Using some of the custom icons, he can recite "The Pledge of Allegiance" with his class each morning at school and say his prayers before bed each night with his 7-year-old sister, Amelia. He even officiated his grandparents' wedding vow renewal ceremony by using customized icons.
"This has changed our lives," Mike Carroll said, choking back tears. "Just to hear him engage with someone back and forth. I can't even tell you how much that means to us. It's still a work in progress, but he's getting so much better."
The AAC's other big benefit is its impact on Emmett's behavior. The inability to communicate or engage socially caused him to act out in frustration and anger. Now that he can communicate better, his behavior has significantly improved, his parents said.
"I'm so proud of Emmett's progress and I'm proud of his parents who are really advocating for him," Sobotka said. "This is a helpful next step for him. Do I expect him to keep improving? I do."
While apraxia is somewhat rare, early childhood language delays are common, so Sobotka recommends parents with children who are experiencing language delays get an assessment as early as possible.
Children with more serious developmental delays, like Emmett, can be helped by a developmental behavior pediatrician. For children under the age of 3, early intervention services can support a child with therapists who work with the child in their home. After age 3, children can receive therapies at school and through therapy centers.
This has been a life-changer for us, so even if we can help one family, I'd be so happy.
May is Apraxia Awareness Month, and last year, there was a fundraising Walk for Apraxia in downtown Frankfort. The Carroll family created a team of family and friends called "Emmett's Buckaroos."
Kristin Carroll said she hopes Emmett's story gives hope to other parents of children with apraxia or speech delays. With the right tools and help, things can improve.
"This has been a life-changer for us, so even if we can help one family, I'd be so happy," she said.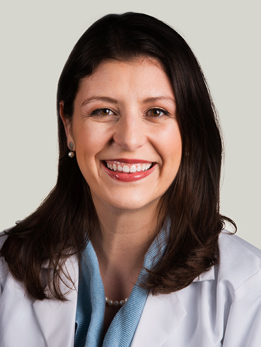 Sarah Sobotka, MD, MSCP
Sarah Sobotka, MD, MSCP, is a developmental and behavioral pediatrician. Dr. Sobotka's areas of expertise include developmental delays, disabilities and medical complexity in children.
Learn more about Dr. Sobotka
Pediatric Articles & News