Skip to content
Celebrating Halloween during the COVID-19 pandemic
How to have a safe and fun Halloween during the COVID-19 pandemic
Adults play a key role in making the Halloween season fun and safe for children. This year, taking time to celebrate can help to create a greater sense of normalcy for children, which can benefit their emotional health as pandemic conditions continue to improve. However, especially with many children still unable to get vaccinated, it's still important to take appropriate safety precautions for your child, your family and your community.
Here are a few answers to frequently asked questions on how to have a safe and fun Halloween during the COVID-19 pandemic.
How can we safely celebrate Halloween this year?
The most important thing to remember is that if you or your child are not feeling well, then you should forego the celebration. However, if you all are feeling well, there are plenty of safe ways to celebrate.
The Centers for Disease Control and Prevention (CDC) recently updated their holiday safety guidelines for the COVID-19 pandemic. It's now okay to go trick-or-treating outside. Other outdoor activities, like apple or pumpkin picking, pose a low risk too. Pumpkin carving with your family, decorating your home, or just watching scary movies at home are some of the lowest-risk activities.
You should still avoid large gatherings — indoors or outdoors — especially if they involve a lot of screaming. (Think football games or haunted houses.)
Will my child's Halloween mask be enough or should they wear a cloth mask too?
Kids should not wear an additional face covering over or under their costume masks. Consider wearing just a Halloween-themed face covering (such as a cloth mask) instead of a costume mask.
How can adults hand out treats safely?
Pass out only individually wrapped goodies. You can have a hand sanitizer dispenser at the doorway and ask your trick-or-treaters to sanitize their hands before reaching into the candy bowl. To further minimize contact, you can also have a small table lined with grab-and-go treats for your trick-or-treaters. Of course, frequent handwashing is always a great practice.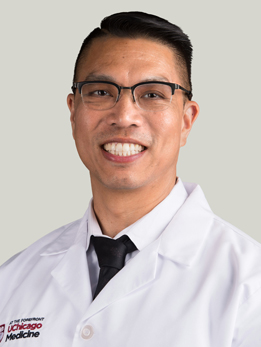 Poj Lysouvakon, MD
Poj Lysouvakon, MD, is a pediatrician, director of the University of Chicago Pediatric Injury Prevention Program, and pediatric director of the Well Baby Unit at Comer Children's Hospital.
Learn more about Dr. Lysouvakon
Learn More About COVID-19 Health and Safety Concerns for Kids