Skip to content
The story behind the COVID-19 set-up process: 'I've never seen anything quite like it'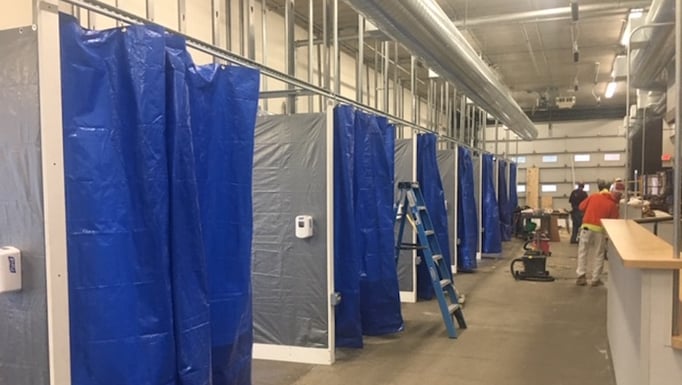 Employees convert the Ingalls Memorial ambulance bay into a COVID-19 care space. Photo via John Gory.
After hearing early reports about a new virus called COVID-19 from their colleagues in China and Italy, University of Chicago Medicine leaders knew a major crisis was imminent.
Emergency Department Medical Director Thomas Spiegel, MD, compared it to the scene from the movie "Jaws," where the lead character learns about the shark's massive size and says, "You're gonna need a bigger boat."
So beginning in mid-March 2020, UChicago Medicine immediately started building areas for COVID-19 testing and treatment. Staff from nearly a dozen hospital teams were tasked with creating nearly 7,000 square feet of new, safe space at the Hyde Park hospital.
Under normal circumstances, this job — which nearly doubled the size of the adult emergency department and included projects on two floors of the Center for Care and Discovery (CCD) — would have taken months to complete. Thanks to an unprecedented team effort and around-the-clock work, it was done in just a few days.
"It was a really phenomenal undertaking," Spiegel said. "There's no question that their efforts saved lives."
The grounds team at the main Hyde Park campus began by sketching out a plan to set up curbside testing lanes and tents in multiple places, including the old Mitchell Hospital emergency department. It required moving planters, striping streets, and setting up barricades, electric power, heaters and coolers.
Simultaneously, space was being transformed at UChicago Medicine Ingalls Memorial Hospital in Harvey. In just nine days, the facilities team set up an eight-room triage center and nurses room with negative air pressure, said John Gory, Director of Plant Operations. Contractors worked two shifts, and employees even used landscaping trucks to pick up supplies because COVID-19 had shut down deliveries.
"Everybody was all hands on deck, and we got things done as quickly as possible," said Doug Daudell, Manager of Real Estate Operations.
Meanwhile, the Supply Chain team scrambled to put in orders before companies shut down due to the pandemic. Not all supplies were available, so they "reverse engineered" it, said Allison Graves, principal of RTM Engineering, one of 10 contributing contractors. That meant they used whatever equipment they could get, even if wasn't their desired choice.
Crews then worked nonstop for three and a half days to get everything set up.
"I've never seen anything quite like it," said Shane Neal, UChicago Medicine's Infrastructure and Engineer Project Manager. "Everyone was focused. We didn't think about whether we could or couldn't do the job, we just thought about how to get it done."
Most of the work took place in "1.5," a nickname given to the area above the adult emergency room. The empty space, set aside for future expansion, had only a few doctor's offices in it. Workers converted it into a massive COVID-19 testing and treatment area, allowing the emergency room to be divided into two separate spaces — one for people with coronavirus symptoms and one for non-COVID-19 emergencies.
Crews brought in portable X-ray machines, made sure there was sufficient electrical power and computer connections, installed plumbing for new bathrooms and sinks, and created large waiting areas with socially distant seating. They tended to hundreds of small details, while everything was constantly cleaned and disinfected.
"It wasn't a pretty space, but it was well lit. You could clean it, everything was movable, and the space was fluid," Neal said.
A key part of the project was adding negative-pressure rooms and anterooms on two floors of the CCD. That controlled airflow in COVID-19 patient rooms and provided space for the staff to safely change in and out of their protective gear.
The hospital's supply chain team worked to find masks, gloves and gowns, even partnering with local 3D printers to make hard-to-find face shields.
Worst-case-scenario plans were conceived for potential needs like patient overflow areas and a makeshift morgue. Thankfully, none of it was needed.
The list of project contributors is long, but some key players included:
Jesus Zamora, Esad Destani and Adam Rodriguez from Clinical Engineering
Tony Rubino, Jofel Celicious, Fernando Maturell, Niki Drever, Natalie Cooper, Janet Gervasio, Stacey Borrelli, Dean Wunderlich and Tim Filarski from IT
James Bishop and Elias Molina from IT Field Service
Janina Resurreccion from Lab/Point of Care Testing
Seth Hartman from Pharmacy
Monica Geyer, Al Jimenez and Jenny Spano-Rzepecki from Radiology
Tom Spiegel, MD, Jeff Murphy, Laura Sterling and Linda Druelinger, MD, from emergency department operations and leadership
Atanas Ilchev and Robert Boyden from Supply Chain
Curt Courtad from EVS (environmental services)
Judd Johnson, Shane Neal, Harshad Doshi, Elizabeth Lockwood, Erika Turckes, John Gory and Clay Goser from Facilities, Planning, Design & Construction
Kim Ames, Gregor Myhren, Matt Danhof, Samantha Penny-Harris and Susan Ourada from Facility Operations
"We couldn't have continued to provide emergency care in a safe manner without their help," Spiegel added. "We would have been putting patients at risk."
Learn More About COVID-19