Skip to content
Enhancing colorectal cancer care and access through technology
Colorectal cancer (CRC) screening not only detects disease early when treatment is more effective but also prevents cancer by finding and removing precancerous polyps. Despite strong evidence to support CRC screening nationally, only 60 percent of adults are up-to-date with their screening. Residents in the state of Illinois are no exception. In fact, Illinois ranks in the last quartile (42 to 49 percent) for CRC screening rates across the nation.
Two exciting and leading-edge technological innovations are in development at the University of Chicago Medicine, which will enhance overall patient care and how it is delivered to improve CRC screening rates.
Population health management tools
Sachin Shah, MD, assistant professor of medicine, and a large team of health and technological experts at UChicago Medicine have designed and implemented a sophisticated electronic decision support system to help physicians do more with less time, work smarter, and simplify care delivery. This tool, which will launch in late 2017, is based within the hospital's electronic health record (EHR) system and engages both providers and patients directly in the patient's own health by generating smart reminders using existing data within the EHR system.
These reminders will allow providers to match specific guidelines for preventative and health care services to patients in need of these services. Both providers and patients will see the same reminders about scheduling colonoscopies, cholesterol tests, Pap smears, and vaccinations, for example. With this system a physician may remind their patient to get her colonoscopy or perhaps the patient reminds the physician.
"The patients we care for in medicine are increasingly complex; their problems require more thought and attention to detail than ever before," Shah said. "And, while we have a wealth of knowledge about what prevents illness and saves lives, we also have less time with our patients than ever before. Using these tools will enhance physician ability to provide preventative services like colonoscopies for at-risk patients while also ensuring the time needed to treat other health issues and concerns."
In the coming months UChicago Medicine staff will be leveraging the capabilities of EHRs to encourage the use of technology to enhance health.
"We are working to help lead UChicago Medicine into the future of medicine utilizing existing EHR data to enhance efficiencies in the ever-evolving health care delivery model," Shah said. "This substantial effort requires strategic vision, clinical and technical expertise, and the trust and respect of patients and colleagues as we introduce new approaches to medical care through tools such as these smart reminders. Adapting to a new model of care, which utilizes electronic data and technology, provides us with an important opportunity to evaluate and update long-standing clinical processes and enhance healthcare for all patients."
Enhancing equitable access to colonoscopy care
Another tech-driven innovation in development focuses on enhancing equitable access to colonoscopies for patients. Many health systems, particularly community health clinics, report low screening rates and inequities among lower income and minority adults. These clinics and hospital systems, like UChicago Medicine, must work together to ensure patients have access to colonoscopies and follow-up, ensure adherence to care plans, and transfer test results to the patient's primary care physician.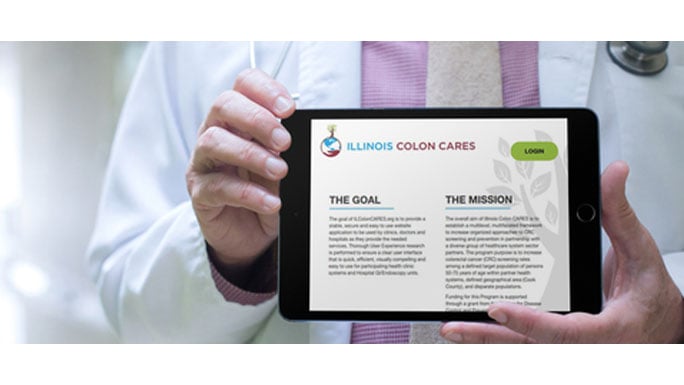 The Cook County CARES (Colorectal Cancer Alliance to Reinforce and Enhance Screening) team at UChicago has developed an innovative and sustainable web-based tool at ILColonCares.org to increase linkage to care for individuals referred for care from local community health clinics. This collaborative tool, which will go live in May 2017, will provide enhanced quality CRC screening by providing community health clinics with access to available colonoscopy appointments at UChicago Medicine. "We have been developing this sustainable technology over the past year to increase linkage to care for individuals referred to care from local community health clinics," said Karen Kim, MD, professor of medicine and director of UChicago's Center for Asian Health Equity (CAHE).
The ILColonCares.org website is being developed with multiple hospital and community-based clinics including UChicago Medicine, Rush University Medical Center, Swedish Covenant Hospital, Heartland Health Centers, Friend Family Health Centers, and CommunityHealth Centers of Chicago. The hospital systems donate colonoscopy appointments to partner local health centers. These slots appear on the site instantly, and the health centers can schedule colonoscopies for approved/uninsured patients. Patient navigation will be provided to ensure compliance, utilization, and transfer of results. There is interest in scaling the site for state-wide and/or national use.
"This web-based enterprise will focus on enhancing equitable access to colonoscopy care for uninsured patients", said Fornessa T. Randal, executive director for CAHE, and lead designer and site director for ILColonCares.org. Technological innovations being led by UChicago Medicine will optimize care coordination, chronic disease management for diseases like colorectal cancer, and enhance prevention strategies, resulting in a tremendous impact on the health outcomes of patients.
About UChicago Cook County CARES
The Cook County CARES (Colorectal Cancer Alliance to Reinforce and Enhance Screening) team includes Dr. Karen Kim, Fornessa Randal, Matt Johnson, Dr. Michael Quinn, Dr. Sachin Shah, and Cheiko Maene
Prevention & Screening Articles