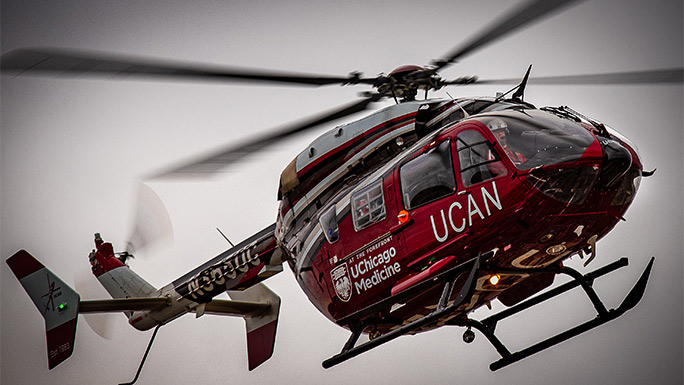 The University of Chicago Medicine Aeromedical Network (UCAN) provides rapid helicopter transport of critically ill or injured neonatal, pediatric and adult patients. We transport patients who need to be flown from the scene of an emergency as well those who need inter-facility transfers, either to the UChicago Medicine's Hyde Park campus or between other hospitals. UCAN can also transport patients by ground ambulance back to UChicago Medicine when helicopter transport is not possible or practical.
UCAN is staffed by a dedicated team of specially trained flight nurses, EMS pilots and communication specialists — all of whom are ready to respond 24 hours a day, seven days a week.
UCAN transports more than 650 cases a year. Our helicopter flies within a 200-mile radius of Chicago, connecting community hospitals with advanced care facilities and medical resources in the region. The twin-engine Airbus EC-145 helicopter flies at speeds up to 140 miles per hour and is capable of transporting two patients, up to four medical crew members and one pilot. All of our transports are staffed with two flight nurses.
Often asked to land at the scene of an emergency — whether on a highway, football field or public park — our UCAN helicopter is capable of responding within minutes. These requests for assistance typically come from 911 communications centers or other first responders. For inter-facility transports, doctors, ER staff and other medical personnel may call the UCAN communications center to request a flight.
Aviation services are provided by Air Methods.
Ground ambulance services are provided by Medical Express Ambulance Service (MedEx).
For Referring Physicians: Transfer a Patient
The University of Chicago Medicine Transfer Center is staffed 24 hours a day, seven days a week by registered nurses who coordinate acute inter-facility transfers. The Transfer Center serves as a single point of contact for urgent and emergent transfer requests. To request a patient transfer, call 1-855-834-4782.
Trauma and Violence Recovery Articles