Expert Knee Care & Tailored Treatments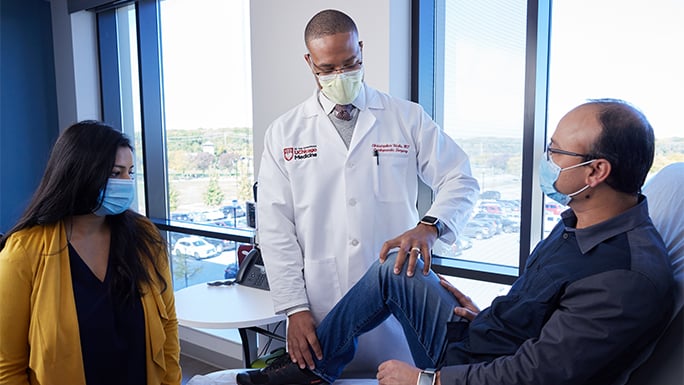 The knee is the largest joint in the entire body. It bears the majority of your weight, which makes the bone susceptible to injury. Each year millions suffer severe knee pain in their bones, cartilage, ligaments and tendons. The orthopaedic specialists at the University of Chicago Medicine's Musculoskeletal Center offer comprehensive non-operative, arthroscopic and joint replacement care for patients with knee injuries and knee pain.
Learn more about joint replacement surgery.
Find relief for your joint pain at UChicago Medicine. Your joints are involved in almost every activity you do. When you suffer from hip or knee pain, everyday activities can feel unbearable. Knee and hip pain can be caused by many conditions. At UChicago Medicine, we can help relieve your pain.

You may find relief using nonsurgical treatment options. If these do not provide relief, your doctor might recommend a partial or total joint replacement. In joint-replacement surgery, also called arthroplasty, your surgeon replaces damaged bone and cartilage with an implant that will allow you to move your joint without pain.

At UChicago Medicine, we perform a high volume of joint-replacement surgeries every year. Higher surgery volumes are associated with better outcomes and lower rates of complications. Our orthopedic surgeons are at the forefront of joint-replacement surgery, including using robotic-arm-assisted technology. This technology helps to customize surgery to your unique needs.

Let's take a closer look at a total knee replacement. First, a CT scan of the knee generates a virtual 3D model of your unique joint. Your surgeon uploads this model into software to create your surgical plan. Your surgeon has the flexibility to modify this plan at any time based on your needs.

Your surgeon guides the robotic arm to remove the damaged bone and cartilage from the knee, keeping your healthy bone and cartilage in place. With the diseased bone gone, your surgeon inserts a knee implant into the joint space.

Robotic-assisted technology is just one example of how UChicago Medicine uses less-invasive surgery to help you recover faster. Our orthopedic program includes less-invasive surgery, specialized anesthetic techniques, and rapid-recovery physical therapy. Many of our patients are up and walking with more mobility and less pain within a day of surgery.

Ready to relieve your joint pain? UChicago Medicine is here to help.
Common Knee Pain Causes
Every year, people experience sports injuries, arthritis, falls, vehicle collisions and more. UChicago Medicine orthopaedic and sports medicine specialists will partner with you to create a care plan to eliminate your knee pain and restore your mobility. Common causes of knee pain include:
Anterior cruciate ligament (ACL) tears

Meniscus injury

Problems affecting the kneecap (patella)

Sprained or strained knee

Knee tendonitis

Torn knee cartilage

Knee arthritis

Runner's knee

Jumper's knee

Knee bursitis
We also treat patients experiencing chronic knee pain or disability as a result of:
Cancer

Deformities

Failed joint replacements

Osteoarthritis

Rheumatoid arthritis

Traumatic injury
Knee Injury Symptoms
Depending on the location and severity of your knee condition, you may experience one or more of the following symptoms:
Knee pain
Swelling of the knee
Knee stiffness or aching
Weakness, instability or decreased flexibility of the knee
Redness around the knee and warm to the touch
Popping sound from the knee
Limited motion, such as not being able to fully extend the knee
Knee Pain Relief to Recover Faster, Walk Sooner
We encourage our patients to try self-care remedies — rest, ice, compression, elevation and over-the- counter anti-inflammatory medications — before seeking medical treatment for minor knee pain after an injury. If your pain persists after these measures, or if the injury is severe, our knee specialists can evaluate the problem and offer the best treatment options for your condition.
Many of our patients are up and walking within a day of surgery. We offer a multifaceted program for knee arthroplasty that includes minimally invasive surgery, specialized anesthetic techniques, multi-modal pain management and rapid-recovery physical therapy.
Nonsurgical Knee Pain Treatment
Many knee injuries can be treated through:
Immobilization. Your doctor may recommend a brace to stabilize your knee. If you have a fractured bone, a cast or brace may hold the bones in place while they heal. You may also be given crutches to keep you from putting weight on your leg.
Physical therapy. Specific exercises help restore function to the knee and strengthen the leg muscles.
Non-steroidal anti-inflammatory medicines (NSAIDs). Drugs like aspirin and ibuprofen reduce pain and swelling.
Comprehensive Knee Surgery Treatments
Our knee surgery team performs a wide range of knee replacements, knee repairs and more. We deliver customized treatments based on each individual patient's diagnosis and symptoms so that we can recommend a procedure that will offer the best outcomes and knee surgery recovery time.
Knee surgeries we offer:
Find an Orthopaedic Location Near You
Arthroscopic knee surgery helps WNBA star
Despite Allie Quigley's success on the court, she found that her knee pain was affecting the mental edge she needed to compete at her full potential. To address the discomfort, she followed several non-surgical approaches — icing, physical therapy and cortisone injections. "Mentally, having a knee issue makes you not as confident on the court," Quigley said. "The discomfort is always on your mind."
Read about Allie's return to basketball
A Robotic Fix for Knee Pain
Karen Gamperl and her husband both needed new knees. Orthopaedic surgeon Hue Luu, MD, recommended robotic-arm assisted total knee replacement. This innovative approach offers many benefits, including natural motion of the joint after recovery. "I can't tell it's not my real knee," Karen says. "It was a fantastic procedure for me." Seeing his wife's success, Michael has the same surgery two months later. And now that they can climb the stairs more easily, they've decided to stay in their split-level home.
Read more of Karen's story
Nurse gets back on her feet after knee replacement
Katherine Krol's right knee started hurting nine years ago. She powered through the pain and sought some initial treatment, but the pain returned and was soon intolerable. It was after a friend recommended Phil Nigro, MD, an orthopaedic surgeon, that she was ready to have knee replacement surgery to rid her of constant pain.
Read more about Katherine's story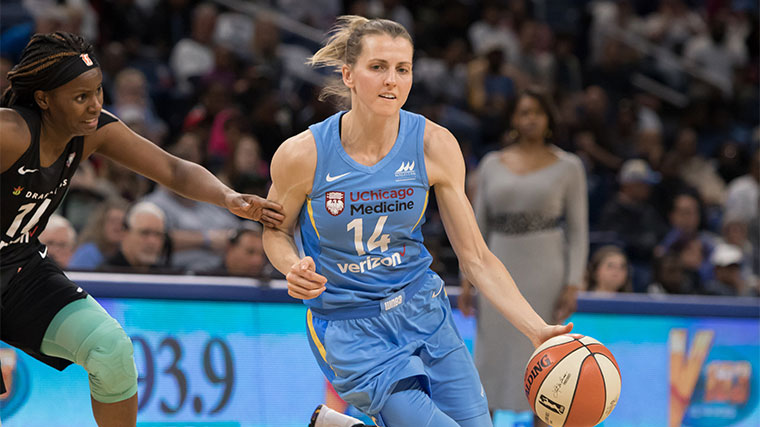 Learn more about orthopaedic care