Heart Failure, Transplant & Mechanical Circulatory Support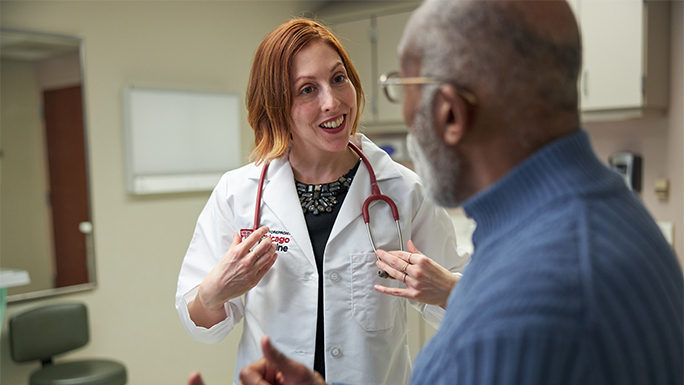 The University of Chicago Medicine is home to one of the most respected congestive heart failure programs in the country. With experts in heart failure medical treatment, mechanical circulatory support and cardiac surgery, including heart transplant, we are committed to delivering the highest level of care to patients, especially those with advanced or complex disease requiring state-of-the-art therapies.
What is Congestive Heart Failure?
When your heart is healthy, it continuously pumps blood throughout the body via the circulatory system. Heart failure occurs when the heart muscle becomes damaged and is unable to deliver enough nutrient-rich blood to meet the body's needs for oxygen. In some cases, the kidneys respond to heart failure by retaining water and, as a result, fluid builds up in the arms, legs, lungs and other organs. This condition is referred to as congestive heart failure. There are several stages of heart failure, ranging from mild, moderate and severe.
There are several stages of heart failure, ranging from mild, moderate and severe. While there is no cure for heart failure, medications, lifestyle changes and surgical options can alleviate symptoms and help patients lead an active life. Understanding early signs of heart failure can help manage the condition sooner.
The Truth About Heart Failure
MYTH #1: Heart attacks and heart failure are the same thing.
MYTH #2: Heart failure rarely affects women.
MYTH #3: I would know if something were wrong with my heart.
MYTH #4: I'm not overweight, so I don't have to worry about heart failure.
MYTH #5: Heart failure is a death sentence.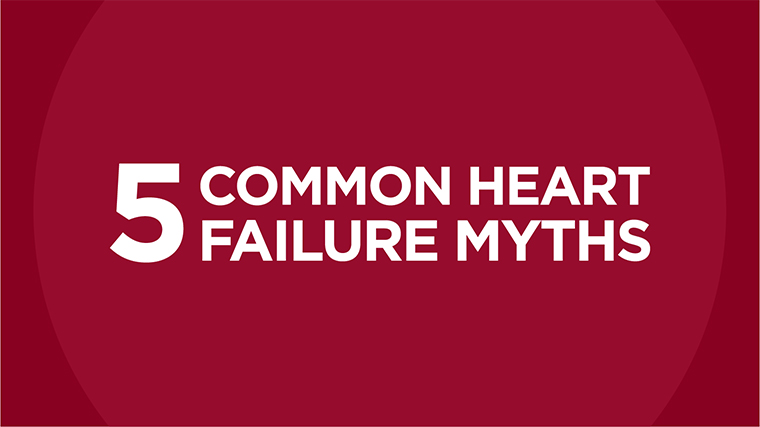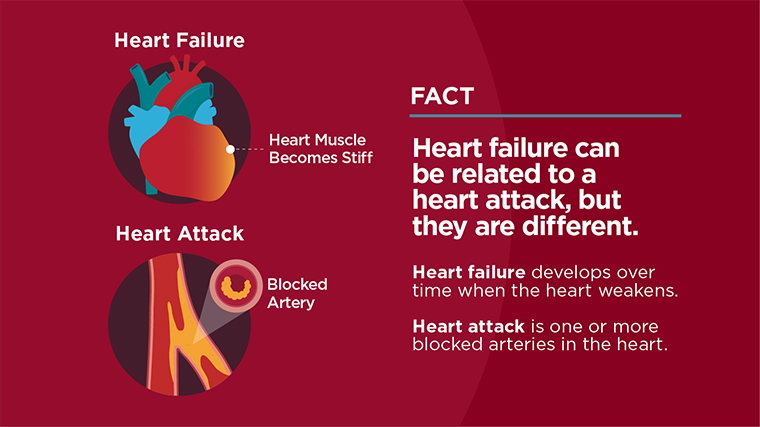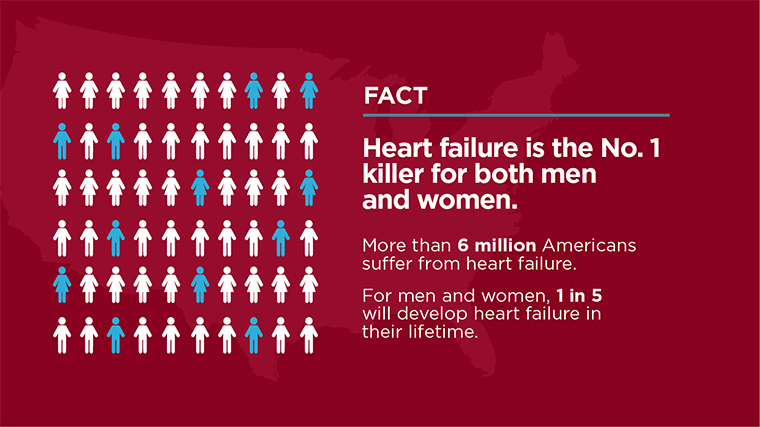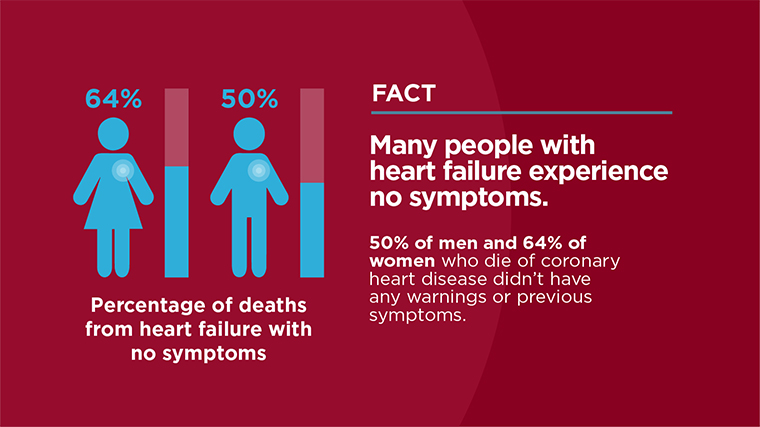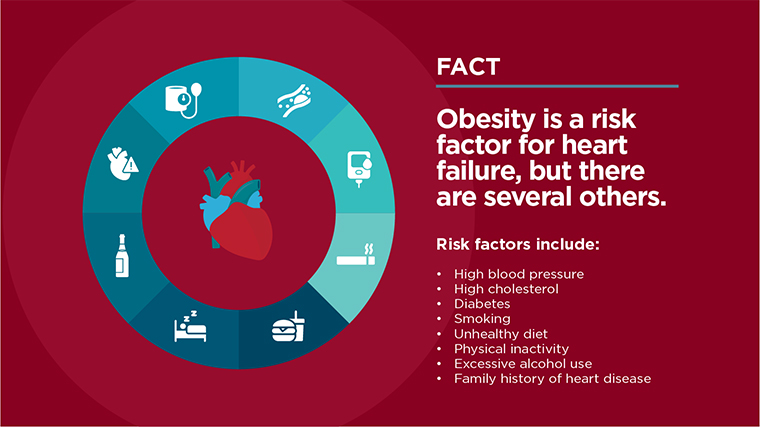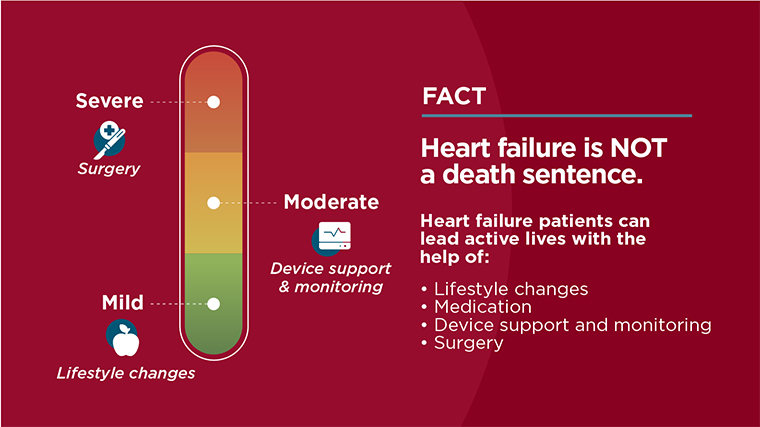 Heart Failure Symptoms and Signs
With more than 5 million people suffering from heart failure in the United States, it is so important to understand the causes, signs and symptoms of this condition in order to seek medical attention as soon as possible. The best defense against heart failure is to live a healthy lifestyle. But it is also critical to know when you are experiencing symptoms and to reach out to your doctor as quickly as possible. Patients with heart failure may experience:
Confusion

Fatigue

Heart palpitations

Lack of appetite, nausea, abdominal pain

Persistent coughing

Shortness of breath, during exercise or rest

Swelling in the feet, ankles, legs or abdomen
Weight gain
These symptoms may be a sign of heart failure or of another medical condition. If you experience one or more of the above symptoms, see your physician for an evaluation.
What causes congestive heart failure?
In most cases, a heart transplant is caused by an underlying, progressive illness. If you have a underlying condition that is not being managed, it can make weaken your heart and exacerbate your condition. Some of the conditions that require a heart transplant include:
Heart Failure Treatments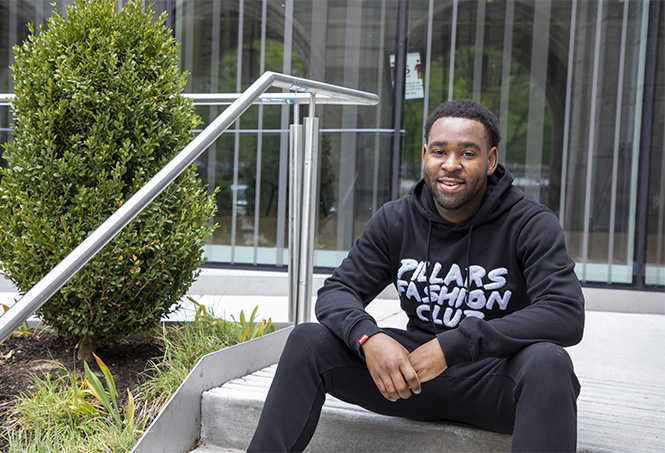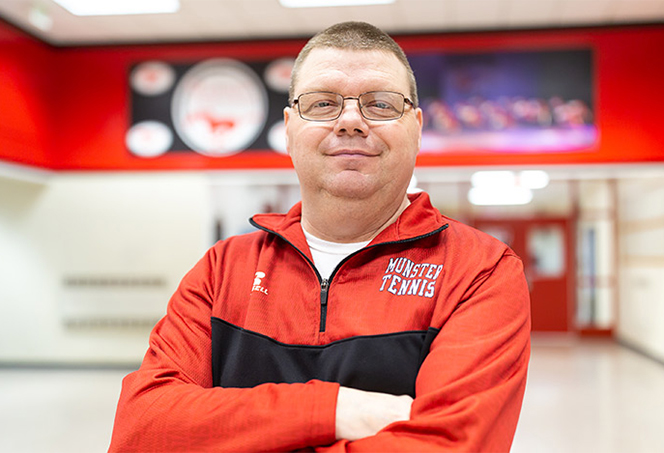 Request an Appointment
The information you provide will enable us to assist you as efficiently as possible. A representative will contact you within one to two business days to help you schedule an appointment.
To speak to someone directly, please call 1-773-702-9461. If you have symptoms of an urgent nature, please call your doctor or go to the emergency room immediately.
Learn more about heart failure and transplants