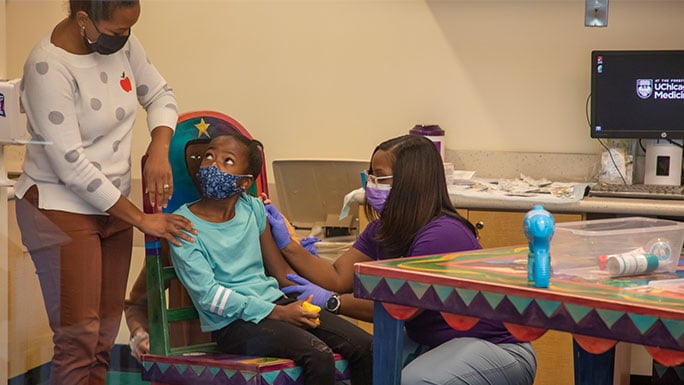 The University of Chicago Medicine Comer Children's Hospital is now offering COVID-19 vaccines for patients ages 5 and up. Your child can also get their flu vaccine (nasal mist) and other immunizations at the same time.
Schedule Your Child's COVID-19 Vaccine Appointment
Appointments are required. Call 773-834-8221 to schedule your child's appointment.
Like adults, children will need two doses of the COVID-19 vaccine and are considered fully vaccinated two weeks after the second dose. Your child's second dose will be given 17 to 28 days after the first dose. Appointments for both doses will be scheduled at the same time.
Q&A: COVID-19 vaccine and kids: What parents should know

Hours
Tuesdays, 5 p.m. to 6:45 p.m.

Saturdays, 8 a.m. to 4 p.m.

Sundays, 9 a.m. to 1 p.m.
COVID-19 vaccine will also be available during regularly scheduled pediatrician visits at Comer Children's Hospital and the Duchossois Center for Advanced Medicine (DCAM).
Location
Comer Children's Hospital
5721 S. Maryland Avenue, 4th floor clinic
Chicago, IL 60637
Cost
The COVID-19 vaccine is offered at no charge to patients. However, if your child has insurance, please bring their insurance card.
Flu vaccine may be covered by insurance and may have a co-pay. Check with your insurance provider.
Helpful COVID-19 Vaccination Resources for Parents and Kids
FAQ: Patient Care at Comer Children's During COVID-19
Learn More About COVID-19 Health and Safety Concerns for Kids