Pediatric Urology

Exceptional, Kid-Focused Urologic Treatment
Our pediatric urology team provides compassionate care to children with conditions affecting the kidneys, ureter, bladder, urethra, penis and testicles. Our urologists work with a multidisciplinary team of experts including fetal medicine specialists, nephrologists, endocrinologists, oncologists, radiologists, orthopedic surgeons and neurosurgeons.
Pediatric Urology Conditions We Treat
Why Choose Comer Children's for Pediatric Urology
We offer the latest treatments and techniques, including minimally invasive robotic surgery, for a full range of congenital and acquired urological diseases. Some patients with complex problems require the expertise of several specialists for both outpatient evaluation and surgery.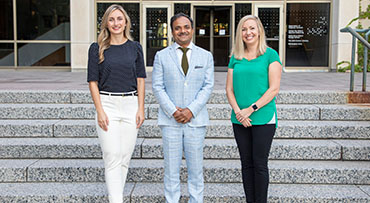 Close Dialog
Minimally Invasive Surgery
At the UChicago Medicine Comer Children's, our highly trained experts are dedicated to providing the least invasive surgical approaches for treatment of urological conditions in children. We believe in treating all urological conditions with the goal of best preserving organ function. We do everything to ensure that your child's recovery and transition back to regular activities goes seamlessly. In each case, the comfort of the child comes first.
Continued Research
The pediatric urology research laboratory is working to refine current minimally invasive surgical procedures and to explore new innovative surgical techniques for the kidney, bladder and ureter. Studies are also being done to follow the long-term outcomes of these procedures. This unique lab trains surgeons in the rapidly-changing field of minimally invasive and robotic-assisted surgery.
Adult Urology Care
UChicago Medicine has a highly respected adult urology program that tackles both noncancerous and cancerous urologic conditions. Our team has performed more than 6,000 robotic urologic surgery procedures, more than any program in Illinois. We collaborate with other UChicago Medicine specialists in medical and radiation oncology, nephrology, gynecology, physical therapy, social work and geriatrics to provide our patients with a personalized, comprehensive approach.
Our Pediatric Urology Locations in Chicago and South Suburbs
1101 S. Canal St.
Suite 201 & 202
Chicago, IL 60607
877-336-5667
Request an Appointment
The information you provide will enable us to assist you as efficiently as possible. A representative will contact you within one to two business days to help you schedule an appointment.
You can also make an appointment with our providers by:
– Scheduling a virtual video visit to see a provider from the comfort of your home
– Requesting an online second opinion from our specialists
To speak to someone directly, please call 1-773-702-6169. If you have symptoms of an urgent nature, please call your doctor or go to the emergency room immediately.
Pediatric Articles & News