Neuroblastoma is a solid, cancerous tumor that begins in the sympathetic nervous system. This type of tumor often is found in the abdomen, but can also be located in the neck, chest and/or pelvis. Most children with neuroblastoma are diagnosed before the age of five.
The Neuroblastoma Program at the University of Chicago Medicine Comer Children's Hospital is led by Susan Cohn, MD, one of the nation's foremost authorities on neuroblastoma. Under Dr. Cohn's leadership, a team of pediatric cancer experts provides comprehensive diagnoses and a wide range of advanced treatment options.
At the Forefront of Neuroblastoma Therapies
In addition to offering unmatched experience and expertise in MIBG therapy, our physicians are very active in the Children's Oncology Group (COG), the New Approaches to Neuroblastoma Therapy (NANT) consortium and the Advances in Neuroblastoma Research Association. As a result, our patients have access to some of the latest treatments. Participation in these organizations also helps our physicians stay informed about advances in neuroblastoma care as they develop. In fact, our experts often are involved in improving current treatments and identifying options for tumors that do not respond to conventional therapies. Learn more about neuroblastoma research and clinical trials.
Research to Improve Survivorship and Quality of Life
We understand that offering the most advanced treatments is important for delivering unparalleled care. Our physicians are also scientists, working to advance treatments for patients with neuroblastoma. With close cooperation between research and patient care activities, discoveries made in the lab can be translated into clinical advances that may improve treatment options for patients with neuroblastoma. Our pediatric oncology team is involved in laboratory research and also has extensive experience with clinical trials. We work with you and your family to decide if your child should participate in a clinical trial as part of their treatment.
Furthermore, we understand that your child's care does not end after their cancer is in remission and they have completed therapy. Our team of experts in the University of Chicago Medicine Childhood Cancer Survivors Center offers exceptional care to support your child and your family in managing the unique and complex health challenges that many neuroblastoma survivors experience after treatment.
Un niño emprende un duro viaje para dar batalla al neuroblastoma, un cáncer infrecuente
En el otoño de 2014, Regina Wan and Eric Betzold ellos recibieron un diagnostico que les desagarró el corazón. Charlie tenía un cáncer pediátrico inusual llamado neuroblastoma.
La Historia de Charlie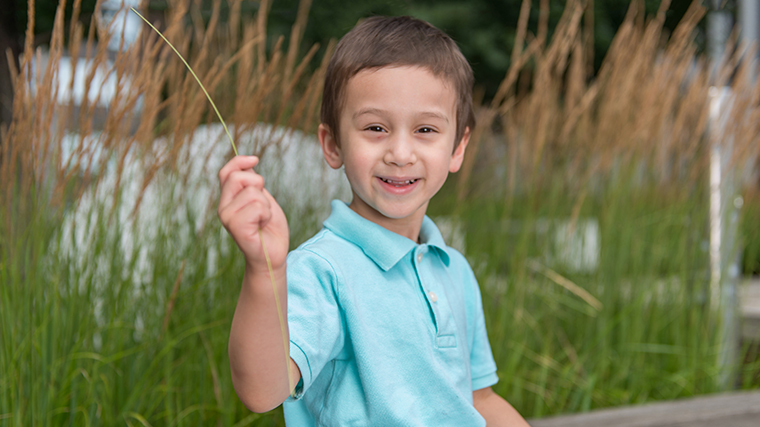 Pediatric Cancer Articles