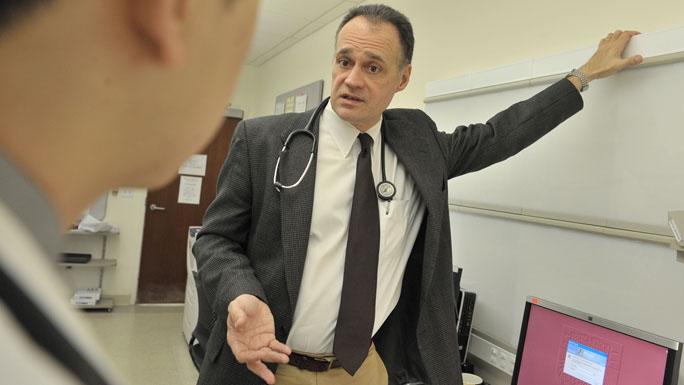 Stem cell transplant (also known as bone marrow transplant or BMT) is an established cellular therapy for many cancers and blood diseases once considered incurable. For some types of blood diseases, stem cell transplant is the standard of care; for others, it's only considered if other treatments have been unsuccessful. Today, ongoing advances in stem cell transplant continue to expand its availability and improve outcomes for patients, both young and old.
Leading-Edge Care for Stem Cell Transplant Patients
At the University of Chicago Medicine, we offer the latest approaches in stem cell transplant. Our patients benefit from physicians who are internationally recognized for their expertise and experience in:
Alternative donor transplantation: If you lack a related donor, your options may include haplo-cord transplants — a combination of donated umbilical cord blood stem cells and half-matched (haploidentical) cells from a related donor.

Integrated, disease-specific care: Our physicians specialize in stem cell transplant as well as specific cancer or blood diseases, such as leukemia, lymphoma and multiple myeloma. Working in collaboration with other experts in their respective field, UChicago Medicine specialists will design a comprehensive treatment plan tailored to your unique characteristics and based on your specific disease's biology.
Outpatient stem cell transplantation: You may be a candidate for outpatient stem cell transplantation, which offers the full benefits of this life-saving treatment while allowing you to spend nights in the comfort of your own home or a nearby hotel.
Adolescent and Young Adult Oncology Program: Our collaborative program helps teens navigate their cancer care while still moving forward in their lives.
Stem cell transplant for older adults: We recognize the distinct needs of older patients, so we've assembled a multidisciplinary team of stem cell transplant and geriatric oncology experts to design a care program tailored specifically for patients over 60.
Graft-Versus-Host Disease (GVHD) Clinic: Our GVHD Clinic was created to prevent GVHD in people who have had an allogeneic stem cell transplant and to provide comprehensive, prompt care for those who develop GVHD.