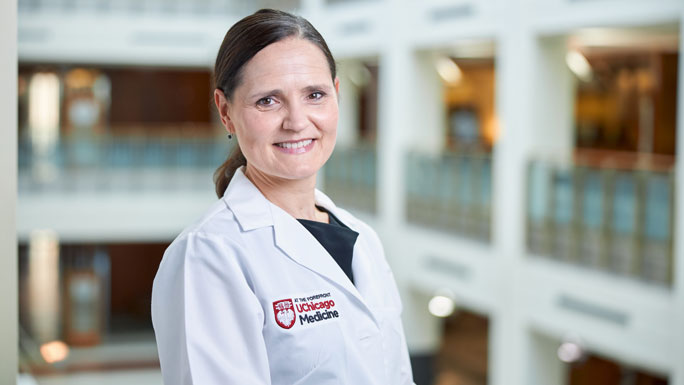 The Gastrointestinal Cancer Risk and Prevention Clinic at the University of Chicago Medicine offers personalized risk assessment for patients and families who may be at increased risk for developing gastrointestinal malignancies — such as colorectal, gastric or pancreatic cancers — due to genetic factors. Our services include:
Gastrointestinal cancer risk assessment and genetic testing
Cancer prevention counseling and strategies
Colorectal cancer screening and surveillance, including colonoscopy
Gastrointestinal surgical procedures
Cancer prevention in patients with inflammatory bowel disease (e.g. Crohn's disease or ulcerative colitis)
Evaluation and risk assessment are offered for individuals who have the following medical history:
Multiple gastrointestinal polyps
Inflammatory bowel disease, especially with longstanding colon involvement
Colorectal cancer before the age of 50
Colorectal cancer at any age with a personal or family history of other cancers
Pancreatic cancer at any age with a personal or family history of other cancers
Gastric adenocarcinoma before the age of 50 and/or personal or family history of breast cancer
Evaluation and risk assessment are recommended for families who have a genetic mutation associated with any of the following cancer predisposition syndromes:
Lynch syndrome, also called HNPCC (hereditary non-polyposis colorectal cancer)
Familial adenomatous polyposis (FAP)
Juvenile polyposis syndrome
Peutz-Jeghers syndrome
Can you inherit gastrointestinal cancer?
In some instances, GI cancer runs in families and the risk of getting cancer is passed down from generation to generation. Gastroenterologist Sonia Kupfer, MD, answers frequently asked questions about gastrointestinal cancer risk and prevention.
Read more
Meet Our Gastrointestinal Cancer Risk & Prevention Physician Team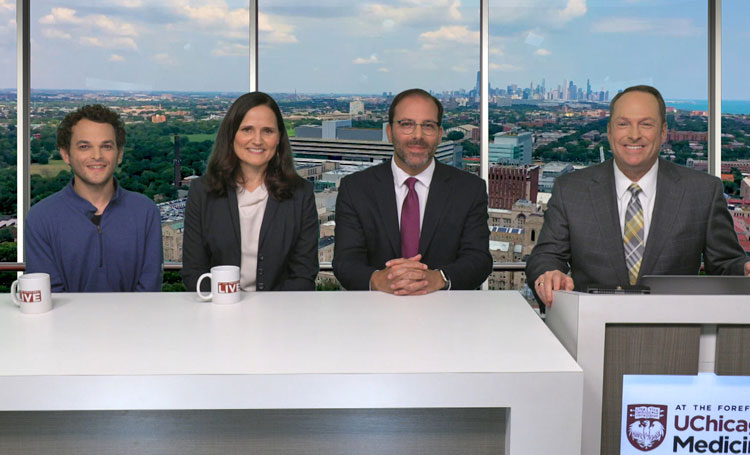 Understanding Stomach Cancer
Physicians Sonia Kupfer, MD, and Kevin Roggin, MD, discuss the genetic factors of stomach cancer, the comprehensive care offered at UChicago Medicine, such as personalized assessments and preventive options, as well as the unique resources available.
Ver Video
Ver Video con Subtítulos
Gastrointestinal Cancer Related Articles