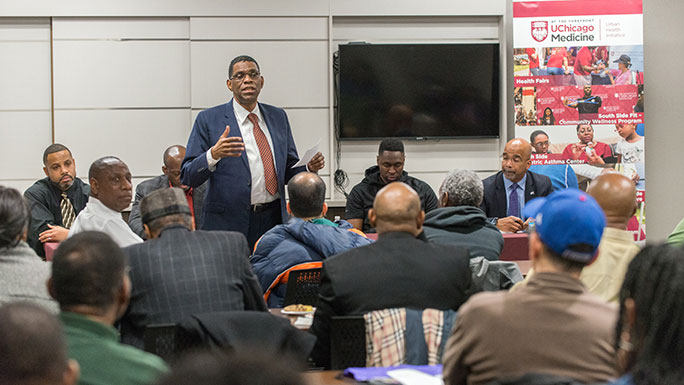 The Center for Community Health & Vitality (CCHV) hosts its Community Grand Rounds series with the support of the University of Chicago's Institute for Translational Medicine and the Urban Health Initiative. The goal of Community Grand Rounds is to share the knowledge and research of UChicago with the community as a way to improve health on the South Side.
Each Community Grand Rounds event includes networking opportunities, formal presentations and audience Q&A sessions. This proven format lets university researchers talk with community members about existing research projects that can improve health and wellness. Past topics have included adolescent mental health, senior sexual health, gun violence, sexually transmitted infections, HIV and teen pregnancy, domestic violence, obesity, diabetes and asthma.
Each Grand Rounds event is hosted in a community setting, outside of the university walls. Topics are chosen by a well-rounded group of community members in partnership with university faculty.
Our community partners include: