A Nonsurgical Weight Loss Solution
Endoscopic therapies are powerful, nonsurgical procedures that can facilitate or enhance weight loss. Though not a cure for obesity, endoscopy, when used properly, can provide an effective way to achieve and sustain weight loss. Patients lose an average of 8% to 20% of their total body weight.
Endoscopic Sleeve Gastroplasy (ESG)
Intragastric Weight Loss Balloon
Aspiration Therapy with AspireAssist
Bariatric Revision — Procedures for Weight Gain After Bariatric Surgery
At the University of Chicago Medicine, we partner with our patients to provide tailored, comprehensive care before, during and after a procedure. Our team provides individualized guidance on lifestyle changes, and our dietitians ensure our patients receive adequate nutritional intake to enhance their success and minimize the risk of nutritional deficiency.
What is Endoscopic Therapy?
Endoscopic therapy uses flexible scopes that are introduced into natural body openings (such as the mouth or throat) without requiring an incision. These endoscopes are often used with both traditional open and minimally invasive procedures to diagnose and treat conditions. This allows patients to heal more quickly, with less pain, so they can return to normal activities faster.
UChicago Medicine has a highly specialized interventional endoscopy program, the Center for Endoscopic Research and Therapeutics (CERT), which ranks among the top in the country as a leader in progressive treatment techniques. The Center for Endoscopic Treatment of Obesity is part of our greater CERT program, bringing that same expertise and innovation to help manage obesity.
Benefits of Nonsurgical (Endoscopic) Obesity Treatment
Patients who choose endoscopic weight loss techniques have several advantages over alternative weight loss options, such as:
Faster recovery: Most patients go home either the same day or the following day after the procedure.
Incision-free: Endoscopy is performed by inserting the scope through the mouth and into the stomach.
Reversible: Physicians do not permanently remove or rearrange the intestinal tract for certain procedures.
Improved co-morbidities: Studies have shown weight loss endoscopy can reduce health risks associated with diabetes, high blood pressure, elevated cholesterol, sleep apnea and acid reflux.
Types of Endoscopic Procedures for Weight Loss
As one of the only programs in Chicago currently offering the endoscopic sleeve gastroplasty (ESG) procedure, our Center for the Endoscopic Treatment of Obesity offers patients the latest treatments for nonsurgical weight loss. In addition to performing a wide variety of procedures to best meet our patients' needs, we also offer clinical trials, enabling them to benefit from novel treatment solutions not yet widely available on the market.
We offer several options for patients considering nonsurgical assistance with weight loss, and it's important to know what's available and what to expect.
Endoscopic Sleeve Gastroplasty (ESG) Procedure
The ESG procedure is one of the most effective endoscopic procedures for primary weight loss. On average, patients lose 40 to 60 pounds or nearly 20% of their body weight.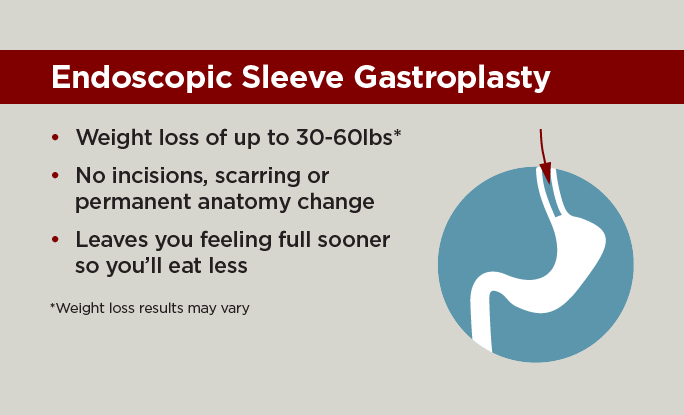 Recent research has demonstrated the weight loss achieved with the ESG procedure can last for more than two years and can improve other medical complications brought on by excess weight, including high cholesterol, diabetes and high blood pressure.
Intragastric Balloon (IGB) Weight Loss Procedure
Often referred to as the "weight loss balloon," these durable, saline or gas filled balloons are temporarily placed in the stomach for six to eight months to assist healthy weight loss. The shape and volume of the stomach balloon (about the size of a grapefruit) takes up approximately one third of the space in your stomach and encourages smaller portion sizes while helping you feel full. With this approach, patients can experience up to three times the weight loss of diet and exercise alone.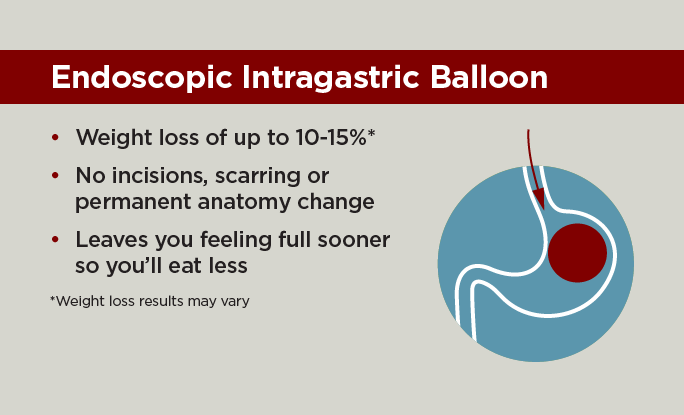 In order to provide our patients with the most advanced care, UChicago Medicine is participating in clinical trials, including a weight loss balloon trial. Patients who are interested in pursuing weight loss balloons should talk to their physicians about qualifying for or getting more information about this clinical trial.
Aspiration Therapy with AspireAssist
Aspiration therapy with the AspireAssist is a FDA-approved weight loss solution that reduces the calories absorbed by the body, allowing you to make progressive, healthy changes to your lifestyle.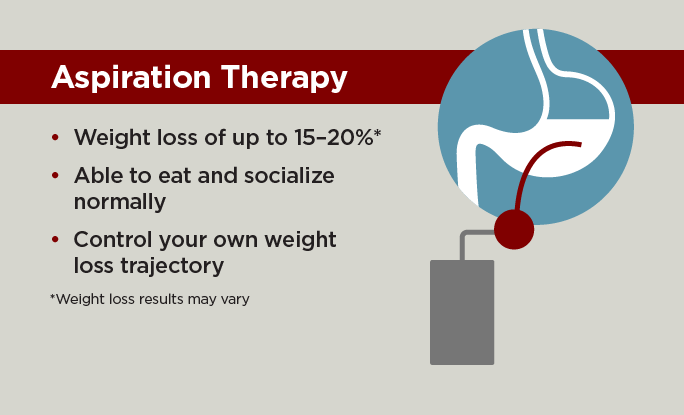 With AspireAssist, a small tube is placed in your stomach that allows you to aspirate (or evacuate) up to 30% of a meal after eating, preventing those calories from being absorbed into the body and resulting in weight loss.
Bariatric Revision Procedures for Weight Gain After Bariatric Surgery
Although
bariatric surgery
is often a highly effective tool for weight loss, sometimes patients experience weight re-gain or need bariatric revision. If this occurs, endoscopic bariatric therapies, including endoscopic suturing, are available to help patients by nonsurgically reducing the size of their residual stomach or surgical connection site to assist in losing weight that has been regained.
Some bariatric surgeries reduce the size of the stomach. This helps patients feel full more quickly and eat smaller meals. Over time, the stomach can begin to stretch, enabling the patient to eat more before feeling full and can lead to weight gain.
Endoscopic therapies, such as endoscopic suturing, are nonsurgical bariatric revision procedures for reducing the size of the stomach pouch or sleeve for patients who have gradually stretched the stomach after weight loss surgery such as Roux-en-Y gastric bypass or sleeve gastrectomy. These incisionless procedures place a scope through the mouth and into the stomach once a patient is under anesthesia. Sutures are put in place internally to tighten the stomach or the surgical connection site where it has stretched. This can restore that feeling of fullness and encourage patients to eat smaller meals again.
Patients who undergo endoscopic bariatric revision procedures lose 30 to 40 pounds on average. For maximum results, patients should consider therapy before a significant amount of weight is re-gained. When patients feel loss of restriction, notice an increased tolerance of larger meals, or start regaining weight, it is time to contemplate scheduling a consultation.
Request an Appointment
The information you provide will enable us to assist you as efficiently as possible. A representative will contact you within one to two business days to help you schedule an appointment.
You can also make an appointment with our providers by:
– Scheduling a virtual video visit to see a provider from the comfort of your home
– Requesting an online second opinion from our specialists
– Filling out an online questionnaire (e-visit) to get a same-day diagnosis and treatment for common conditions.
To speak to someone directly, please call 1-888-824-0200. If you have symptoms of an urgent nature, please call your doctor or go to the emergency room immediately.
Locations for Endoscopic Weight Loss Services
1101 S. Canal St.
Suite 201 & 202
Chicago, IL 60607
877-336-5667
Weight Loss Q&A
Dr. Christopher Chapman and Dr. Edwin McDonald answer questions about the innovative approaches to weight management offered at UChicago Medicine.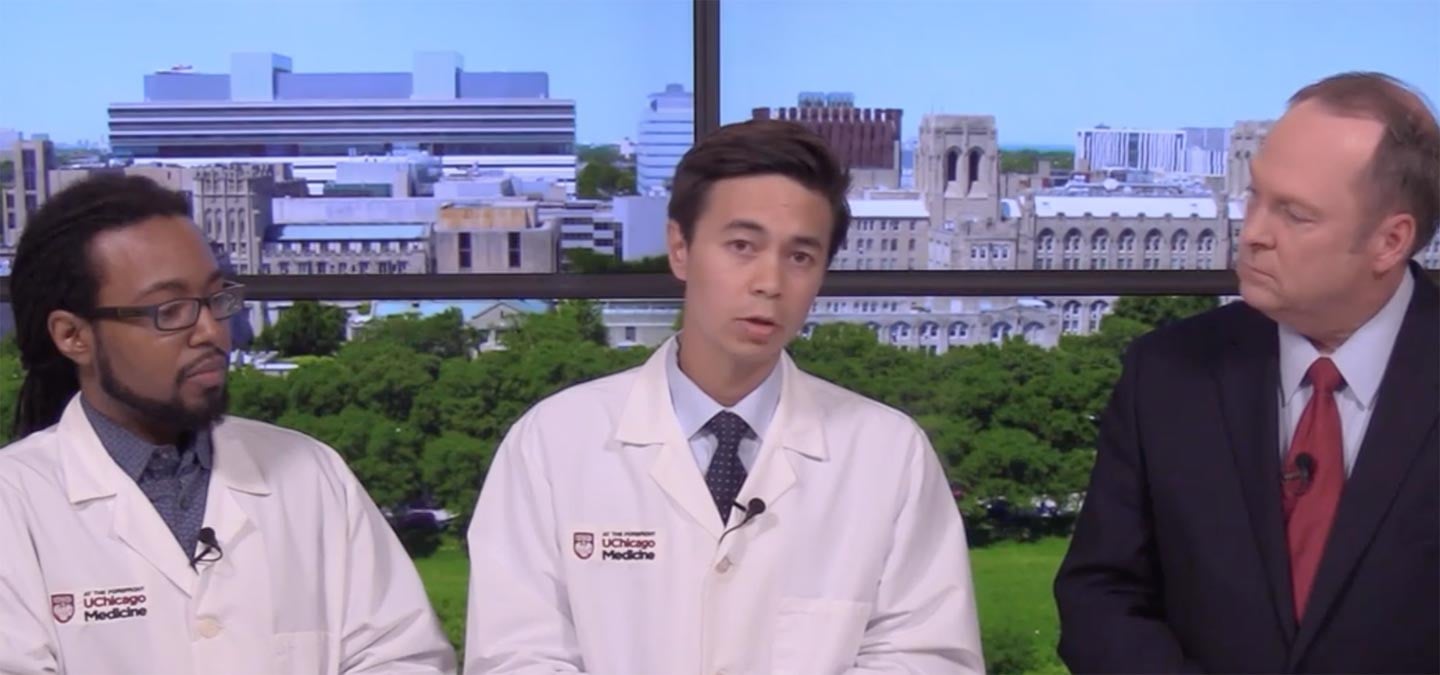 Weight Management Articles