Asking For Help Can Be Hard; Asking For An Organ Donation Can Seem Impossible
The University of Chicago Medicine's Transplant Center care team is here to help through the Living Donor Champion Program. This program is available to all patients on the kidney transplant waiting list and is designed to help kidney transplant patients jumpstart the conversation about live kidney donation with family, friends and acquaintances.
Are you Eligible to be a Living Kidney Donor?
This questionnaire is for friends, family and others who are considering being a living kidney donor.
Take Kidney Donor Questionnaire
Through the Champion Program, kidney transplant patients identify a personal advocate — or champion — in their lives who can help spread the word about their need for a living organ donation. Working with a champion can help remove some of the burdens felt by kidney transplant patients as they wait to receive an organ.
The patients and their champions will attend two 2-hour classes together at UChicago Medicine, first to learn the basics of kidney disease and then to meet past donors and recipients and learn how to more readily share their stories.
Rich Matula's experience in the Living Donor Champion Program
[MUSIC PLAYING] We're both back running. We both feel really good.
You can really tell easily is my time's gotten a lot slower. That's one of the first symptoms that showed up. I have polycystic kidney disease. And it's a hereditary disease. And cysts grow on your kidneys and eventually choke out the actual real function of the kidneys. It's just an amazing sacrifice. It's humbling to see him to be willing to do this. And just a great friend. And it's just amazing.
He's a really great guy. And like I said, he never put any kind of pressure on you, you know? And he's never complained. So yeah, he's a really good guy. So my kidney has found a nice home.
Rich not only participated by taking care of himself, in terms of eating healthy and keeping his weight at a healthy state and staying active. He also participated in our living donor champion program. That is a program that is unique to the University of Chicago.
And what we do is we teach the recipients how to tell their story and how to go about asking others to potentially donate an organ. That's a very difficult thing. I mean you're not asking somebody to loan you a cup of sugar. You're asking somebody to go through a surgical procedure.
The surgery went very well, successful. We're both back running. We both feel really good. And we're both really happy at everything that transpired at the University of Chicago.
This is really one of the truly altruistic things that is done. It's the gift of life. And it is the ultimate altruistic gift.
The goals of the program are to:
Provide patients with the skills to ask others about live donation
Provide patients with information to educate others about live donation
Help patients start the conversation about live donation
Help patients identify who to ask
Help patients identify family or friends who can help talk to others about live donation
Increase awareness of kidney failure and the benefits of live donation
Each meeting consists of an education session and a panel discussion. Parking vouchers and light refreshments are provided.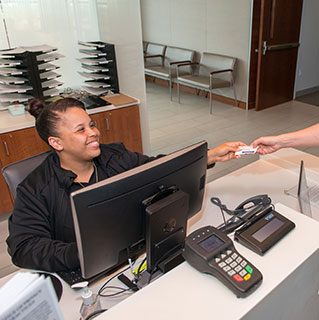 Contact Us
To learn more about the Living Donor Champion Program, call 773-702-6867 or email LDChamp@uchospitals.edu.
Donor 'Champion' makes all the difference
Leah Weber managed her kidney disease quietly, and almost no one outside her immediate family knew. She and her husband Keith enrolled in the UChicago Medicine Living Donor Champion Program. The unique program teaches a patient's chosen "champion" — a friend or family member — how to share their story in order to find living donors.
Read about Leah Weber's experience in the Living Donor Champion Program
Patient Information
Your care and well-being are our primary concerns, and we want your stay to be as comfortable as possible.
See all patient resources
Second Opinions
Seeking the opinion of an expert can ease your mind and help you feel more secure in the medical decisions you are making.
Request a second opinion
Clinical Trials
Our research helps health care professionals around the world better treat diseases, conditions and disorders.
View all clinical trials
---
Health Library
Find patient education resources about medical conditions and treatments, including videos, quizzes and risk assessments.
Explore A-Z health topics
Classes & Events
We offer relevant classes, screenings and support groups to help you lead a healthier life.
See all classes and events