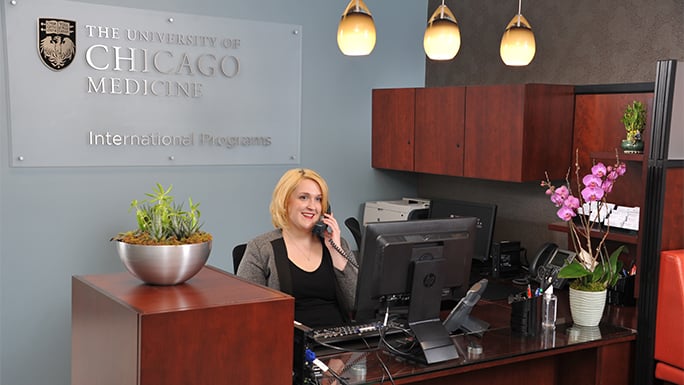 The University of Chicago Medicine serves hundreds of patients from more than 75 countries around the world. While our medical team provides world-class clinical care for international patients, the International Program offers customized services to meet their cultural, religious and linguistic needs.
Customized Patient Coordination
Our bilingual and culturally diverse team is dedicated to meeting our patients medical and non-medical needs, serving as a single point of contact before, during and after their experience at UChicago Medicine. Our priority is to help patients through their health care journey and make Chicago feel as close to home as possible, which is why we have a wide range of amenities and services, including:
Pre-intake preparation before arrival to Chicago
Clinical triage and management of care by experienced medical directors
Scheduling medical appointment(s)
Escort patients to medical appointments
Medical interpretation for over 50 languages
Arranging equipment and/or home care
Follow-up appointment(s) scheduling
Assisting with medical records
Medication consolidation and prescription delivery to hotel/apartments in Chicago
Discharge planning and continuity of care with home country physicians
Guest Services
For non-clinical needs, our Guest Services Unit provides personalized services based on individual preferences. Our goal is to ensure you get the care you need and deserve. Some of our distinguished services include:
Personalized meet and greet at the airport for patients regardless of the arrival time
Complimentary private airport pickup/drop off
Complimentary private transportation to/from each medical appointment
Assistance with daily tasks such as opening a bank accounts, obtaining cell phone services and more
Lodging arrangements with local hotels, apartments and corporate units at discounted rates
International primary care clinic for international patients and their companions
International patient lounge in downtown Chicago that features a range of amenities
Assistance with cultural orientation
Concierge services for dining and entertainment
Request an Appointment
Please complete this secure form. The information you provide will enable us to assist you as efficiently as possible. A representative will contact you within 24 hours to help you schedule an appointment.
Please note that electronic request form is not for same- or next-day appointments. If you prefer to speak to someone directly, please call +1-773-702-0506. If you have symptoms of an urgent nature, please call your doctor or go to the emergency room immediately.
International Program Articles