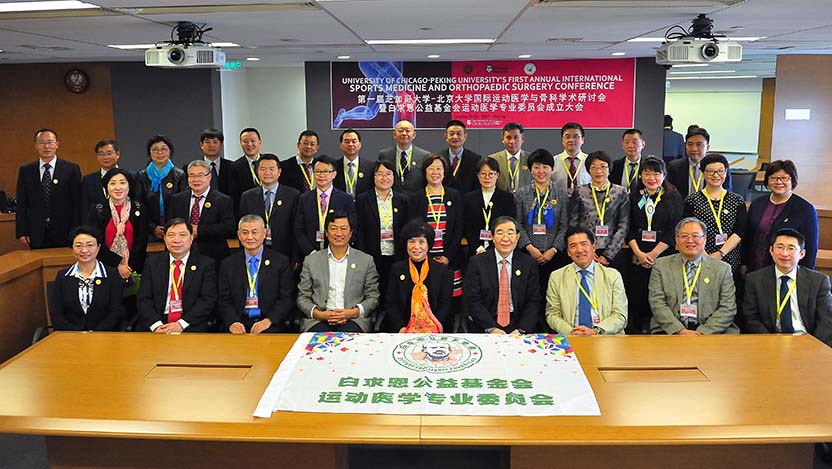 Leadership Education
Experts at the University of Chicago Medicine share their expertise and best practices in hospital management and operations with health care leaders from all over the world. Our leadership philosophy enables us to customize a program that meets the specific needs of any organization. Leadership education programs include:
Annual Global Health Executive Training (5 days)
Clinical Leadership Development Fellowship (10 months)
Global Nursing Leadership Training (5 days)
On-demand customized training programs for health care leaders
Clinical Observership Program
UChicago Medicine provides international physicians, nurses and allied health professionals with the opportunity to observe a wide range of clinical specialties, which allows the observers to learn about clinical practices and management through a variety of teaching methods. The length of an observership can span from two to 12 weeks, with the duration varying by clinical department.
Hospital Management Training
UChicago Medicine offers a unique experience to learn the best practices of hospital management and operations through lectures, discussions and on-site shadowing. The training agenda will be customized based on your specific needs and will vary in duration, taking between one to 4 weeks to complete.
Other Health Care Related Education Program
This eight-week online course is designed to give those contemplating a move into health care informatics an in-depth overview of the field's key topics as well as a chance to pursue particular areas of interest. Learn more about health care informatics
The degree program leverages the University of Chicago Harris Public Policy's expertise in health economics and public policy, as well as the London School of Economics' (LSE) focus on global health and policy, to provide a comprehensive understanding of the challenges facing health care across the world and how to develop sustainable solutions to address them.
Once a student successfully completes the program, they are awarded a Master of Arts in Public Policy from the University of Chicago Harris Public Policy and a Master of Science in Health Economics and Policy from the London School of Economics. Learn more about this program.
The Global Health in Paris program will feature a sequence of three courses focused on epidemiology, microbiology, and the broader social, political and economic forces that shape global health issues. For all courses, classroom work will be complemented by laboratory exercises and field trips to Parisian locales that will enhance students' understanding of the course topics. All participants will take a "practical" French language course (beginning, intermediate or advanced) for 10 weeks.
The Center in Paris is the University of Chicago's research and teaching arm in Europe, an intellectual community of faculty, graduate and undergraduate students representing our traditionally strong ties to European thought and culture. The Center is located in the 13th arrondissement, between the newly expanded campus of the University of Paris VII and the French National Library. Nearly half of University of Chicago's undergraduates who travel abroad study in Paris in programs that range from humanities and social sciences to natural and physical sciences. A dozen doctoral students are currently in residence at the Center, and faculty visit regularly for research, conferences and teaching.
UChicago in the World
The University of Chicago's overseas campus and centers expand opportunities for collaboration with universities, research institutes and cultural organizations; meet the needs of a growing number of faculty and students with research support and other opportunities abroad; and engage alumni throughout each region.
International Program Articles